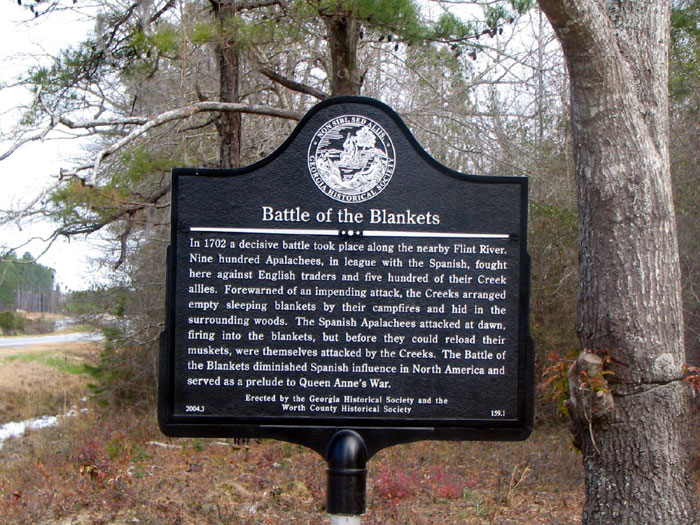 This week's #MarkerMonday looks at the Battle of the Blankets historical marker in Worth County. In 1702, when most of today's south Georgia and northern Florida was contested ground between Spain, England, and France and between rival groups of Native Americans, a small battle along the Flint River played an outsized role in bringing one of Europe's most significant conflicts of the early eighteenth century into the Southeast of America. Responding to a request for support from Appalachee Indians in northern Florida, Spanish governor José de Zúñiga sent soldiers to aid the Appalachee in their conflict with the Apalachicola (part of the Creek Nation) and their English allies. As the Appalachees and Spanish made their way toward the Flint River in today's Worth County, the Apalachicola learned of their approach and prepared for the attack.
The Apalachicola and their English allies set up camp near the Flint River, in anticipation of the Apalachee and Spanish attack. As a decoy, the Apalachicola and the English arranged their blankets as if they were sleeping and snuck away to surround and ambush the camp when their enemies arrived. The Appalachees and Spanish attacked at dawn, shooting at and stabbing the blankets before realizing their mistake. Before they could escape, they were attacked by the surrounding Apalachicola.
Soon after the battle, the Carolina English attacked Spanish settlements in present-day Georgia on their way to Spanish Florida. The Battle of the Blankets is considered a precursor to Queen Anne's War (1702-1713), the second in a series of wars fought between Great Britain and France in North America for control of the continent. It was contemporaneous with the War of the Spanish Succession in Europe. Though most of the military effort of Queen Anne's War centered on the New York-New England frontier with Canada, the British attacks in the Southeast were seen by the Spanish in Florida and the French in Louisiana as a strike for control of the southern territories.
---
Explore the links below to learn more:
Related Marker Text – Spanish-Indian Battle (1702)
Related Marker Text – Battle of 1702
Tallahassee Magazine – "1702 'Battle Of The Blankets' Helped Change The Course Of History In The New World"
Here the Creeks sat down by Walter Alexander Harris
Encyclopaedia Britannica – Queen Anne's War