This week's #MarkerMonday looks at the Benjamin Hawkins historical marker in Heard County. Benjamin Hawkins was born in Warren County, North Carolina in 1754, and later served as a member of the Congress of the Confederation and as a United States Senator from North Carolina. Prior to his political career, Hawkins left college early to act as a personal translator between French soldiers and General George Washington during the Revolutionary War. His demonstrated diplomacy in office and between Americans and Native Tribes led to his appointment as Indian Agent by President George Washington in 1796. During his time in the Creek Nation, he expressed interest in their culture and became known as, "The Beloved Man of the Four Nations."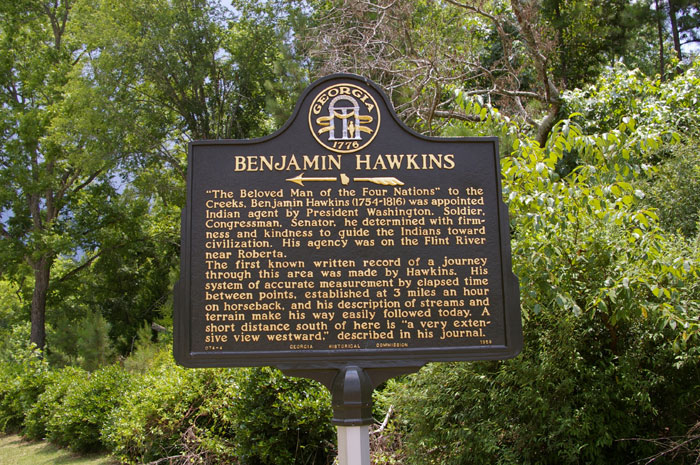 After the Revolutionary War, the United States turned its focus inland toward a western expansion. Under this plan, Native Americans already living there would be trained in more "civilized" practices, such as farming, raising livestock, and weaving, practices the Native Americans already performed. Wanting Native American land for expansion, the US government made a push for them to transition to small farms so that the larger hunting grounds could be sold to Americans moving westward.
Indian Agents were appointed as middlemen between the United States government and Native American tribes throughout the new country. The US hoped that tensions between the two parties would be diminished if these agents acted as a direct contact for the Native Americans by living closely with the tribes. The agents also oversaw trading houses, which bought raw materials for production from Native Americans, such as deerskin and furs. The trading houses were organized to regulate trade between Native Americans and white settlers. They offered products at cost, rather than unfairly trading with individual settlers.
In the Southeast, Benjamin Hawkins understood that the government had plans to take the land by force if necessary, but he preferred to work with the Creek, Cherokee, and Chickasaw tribes to help them assimilate, and chose to live with the Creek tribe. He promoted keeping their culture alive within the constraints of the dominant American society. Hawkins' accounts reflected a fascination with the cultures and traditions that he came across during his time living with the tribes, but he also taught them how to live like white settlers. The tribes were not forced to assimilate, but that led to a split resulting in the later Creek War (1813-1814).
---
Explore the links below to learn more:
New Georgia Encyclopedia­ – Benjamin Hawkins (1754-1816)
Encyclopedia of Alabama – Benjamin Hawkins
Encyclopedia.com­ – Indian Trading Houses
Encyclopedia.com­ – Indian Agents
GHS houses several collections related to Benjamin Hawkins.
Benjamin Hawkins papers, MS 0373
Benjamin Hawkins Viatory, MS 2365
Creek Trading House records, MS
Georgia Commission to Attend a Treaty with the Creek Indians journal, MS 0280