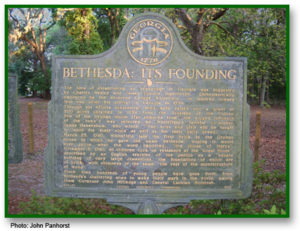 This week's #MarkerMonday highlights the founding of Bethesda Orphan House and Academy, the predecessor of today's Bethesda Academy in Savannah. In the years following Georgia's founding, ongoing outbreaks of disease left the colony unable to care for the growing number of orphans. After arriving in Georgia in 1738, Rev. George Whitefield set out to open an orphanage in Georgia, an idea championed by Charles Wesley and supported by Gen. James Oglethorpe. After raising the necessary funds, the Georgia Trustees granted 500 acres of land for the building of the orphanage and academy in 1739.
With the first brick laid on March 25, 1740, Bethesda was created. Bethesda became a center for education under Whitefield's mission statement to teach "a love for God, a love of learning and a strong work ethic." Whitefield would also continue to raise funds in support of the orphanage until his death, often collecting money while traveling around the American colonies to preach. The Georgia Trustees also supported teachers at Bethesda by paying for their food, clothing, and salary. Other well-known contributors to Bethesda included two of Whitefield's friends, James Habersham, who served as the school's superintendent and financial manager, and Benjamin Franklin. Upon Whitefield's death, Bethesda was left to the care Selina Hastings, the Countess of Huntington. A sponsor of Bethesda, the Countess was a leader in the Methodist Movement in Great Britain, and she supported Bethesda by sending teachers and missionaries to care for the orphans.
---
Explore the links below to learn more about the founding and rich history of Bethesda Academy.
GHS is proud to house Samuel Fayrweather's Account of Bethesda, 1748 (click to view a transcription of letter), as well as several photos, sketches, and additional images of and related to Bethesda in our Collection and Digital Image Catalogs, which can be view by using the Keyword Search, "Bethesda."
Union Society and Bethesda Historical Marker Text
Bethesda: Highlights of its History Historical Marker Text
James Habersham Historical Marker Text
Hidden Histories: Bethesda: Its Founding
New Georgia Encyclopedia: Bethesda
New Georgia Encyclopedia: George Whitefield
Bethesda Museum: Bethesda History
Savannah Morning News: Bethesda Home for Boys is now Called Bethesda Academy (April 21, 2011)
Britannica: Selina Hastings, Countess of Huntington
Further Reading
Cashin, Edward J. Beloved Bethesda: A History of George Whitefield's Home for Boys. Mercer University Press: Macon, 2001.
Williams, Robert V. "George Whitefield's Bethesda: The Orphanage, the College, and the Library" (Library History Seminar #3, Proceeding 1968)
Whitefield, George, Rev. Letter to His Excellency Governour Wright, giving an account of the steps taken relative to the converting the Georgia Orphan-House into a college. Together with the literary correspondence that passed upon that subject, between His Grace the Archibishop of Canterbury and the Reverend Mr. Whitefield. Made available by the University of Michigan and Text Creation Partnership.
The Georgia Historical Quarterly has published several articles about Bethesda which can be accessed on JSTOR. If your library does not have access to JSTOR, you can go to www.jstor.org and create a free MyJSTOR Account.
Related Marker Monday Posts
George Whitefield (May 8, 2017)