This week's #MarkerMonday highlights the history of the Haygood siblings. The Birthplace of Bishop A. G. Haygood and Miss Laura A. Haygood historical marker is in Watkinsville, Oconee County, Georgia, in front of their former home. After growing up under the influence of the Methodist Church, Atticus and Laura Haygood became influential members of the church and community.
After graduating from Emory College in Oxford, Georgia, organized by the Georgia Methodist conference in 1839, Atticus Haygood served as chaplain and missionary to the Confederate Army during the Civil War. Atticus remained an influential member of the Methodist Church after the Civil War and soon became the Sunday school secretary of the General Southern Conference in 1870. Five years later he was offered a position as President of Emory College in Oxford and dedicated himself to promoting educational opportunities despite one's race or class. In 1890 Atticus was invited to become a Bishop within the Methodist Episcopal Church and was placed in California.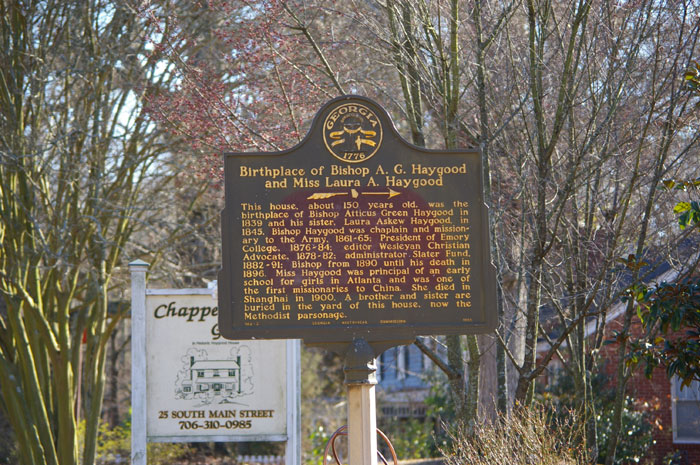 Like her brother, Laura Haygood was passionate about making educational opportunities available. She attended Wesleyan College, in Macon, Georgia, the first college in the world chartered to grant degrees to women. She was also offered positions with the Methodist Episcopal Church, South, but decided to focus on teaching at a school for girls, opening an industrial school, and organizing local missions to provide food and shelter to people in need in Atlanta. In 1884 she visited China as the first woman missionary sent to a foreign site by the Women's Missionary Society of the Methodist Church. Laura spent 16 years in Shanghai, founding the McTyeire Home and School, before her death there in 1900. Considering her plan to continue to spread educational opportunities to girls in China, the Women's Board of the Methodist Church, South, dedicated the Laura Haygood Normal School to her in Soochow, China, in 1916.
---
Explore the links below to learn more:
New Georgia Encyclopedia—Atticus G. Haygood (1839-1896)
Emory University, History and Traditions
Oxford Historical Society—Atticus G. Haygood
Oxford Historical Society—Laura Askew Haygood
Georgia Women of Achievement—Laura Askew Haygood