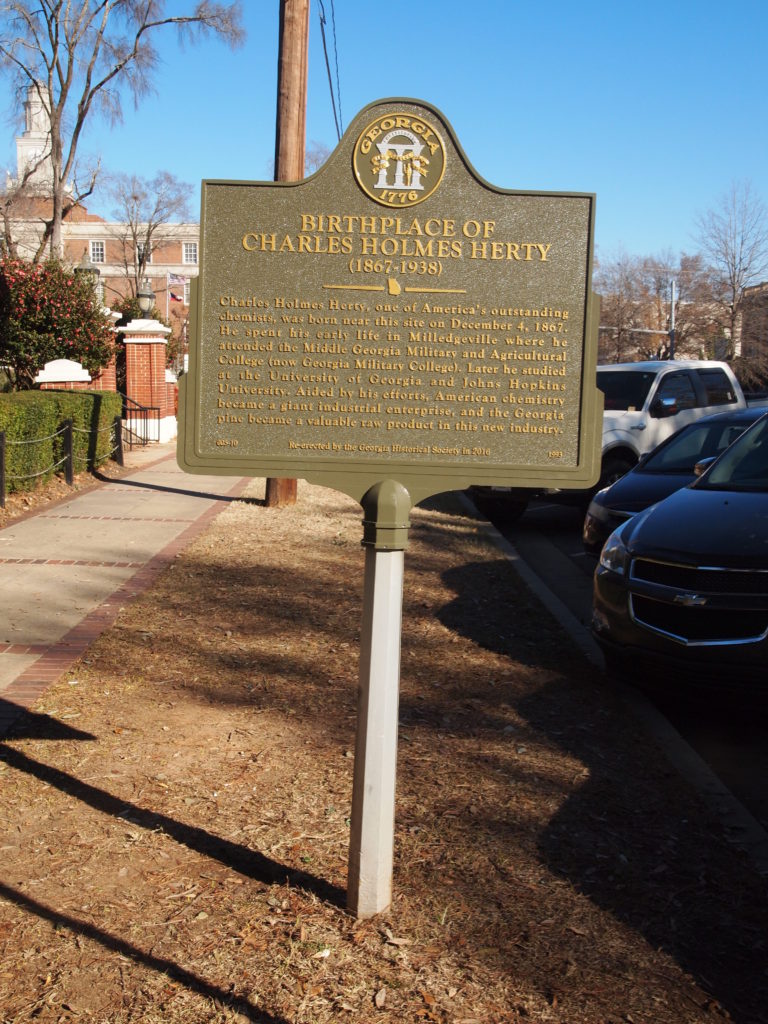 This week's #MarkerMonday discusses Charles Holmes Herty and the marker signifying his birthplace in Milledgeville, Georgia. Some may know Charles Herty for his work expanding the athletic department and organizing and coaching the first football team at the University of Georgia. Upon graduating with a doctorate from Johns Hopkins University, Herty returned to UGA to work with the chemistry department. Charles Herty would go on to revolutionize the paper and forestry industry in Georgia.
By the twentieth century Georgia held two of the world's leading ports for naval store shipments. Naval stores are products derived from coniferous trees; live trees produce resin that is distilled into turpentine, and harvested trees are used as lumber or in paper production. Previously, pine trees were damaged by cutting a deep hole into the tree to collect resin. Herty developed the cup-and-gutter system, a less-harmful technique allowing trees to not only live through the process of resin collection, but that also produced more resin for a longer amount of time. Instead of clearcutting damaged trees foresters could use trees longer, minimizing deforestation.
Additionally, Charles Herty believed the pine trees of the South could become as profitable in the paper industry as the spruce trees in the North. He wanted to develop a newsprint and white-paper industry in Georgia, expanding on the current kraft-paper industry, which included deli and bulletin board paper. Herty received grants from the Chemical Foundation and the Georgia legislature to conduct chemical experiments to innovate the production of paper in order to bring the newsprint industry to Georgia. He found that an acidic sulfite solution could be used on young pine trees to digest the wood, creating a quality paper pulp. Although Herty died before the completion of the South's first newsprint mill, he did secure the investments from major publishers in Texas and Oklahoma. The first newsprint mill in the South was built in Lufkin, Texas, in 1940 and closed its doors in late 2003.
---
Explore the links below to learn more:
Related Marker Text-Pioneer Turpentining Experiment
Related Marker Text–Herty Field
Online Exhibit-Charles Herty Brief Biography
Southland Paper Mills, Inc. Historical Marker
New Georgia Encyclopedia-Charles Herty (1867-1938)
New Georgia Encyclopedia-Naval Stores Industry
Encyclopedia Britannica-Naval Stores
Bowman, Bob (2002) "Southland Papermills, INC: The South's Pioneer Newsprint Manufacturer," East Texas Historical Journal: Vol.
40: Iss. 2, Article 9.
GHS houses several collections related to Charles Holmes Herty.
Foltz Photography Studio (Savannah, Ga.) photographs, MS 1360
Georgia Historical Society collection of photographs, MS 1361-PH
Georgia Medical Society records, MS 2012
Naval stores collection, MS 2022
Rotary Club of Savannah records, MS 1595