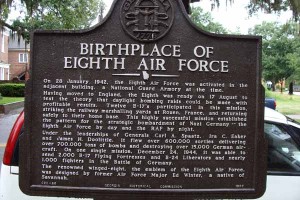 This week's #MarkerMonday highlights the Birthplace of the Eighth Air Force. On Jan. 28, 1942, the Eighth Air Force was activated in Savannah, Georgia. Soon after, the unit moved overseas to England. They became best-known for flying daylight bombing missions over Nazi-occupied Europe during World War II, focusing on military-supporting industries. These raids combined with the Royal Air Force's night missions ensured that Nazi occupied areas were getting bombed around the clock. Over 350,000 men served in the Eighth throughout the course of World War II. The unit suffered over 29,000 casualties in the conflict – more than the entire U.S. Marine Corps. The Mighty Eighth Air Force remains an active unit today, which is currently headquartered at Barksdale Air Force Base in Shreveport, LA.
To learn more about the Eighth Air Force, visit the links below.
GHS is proud to house the papers of Maj. Gen. Frank O. Hunter – former Commander of the Eighth Air Force and namesake for Hunter Army Airfield.
National Museum of the Mighty Eighth Air Force