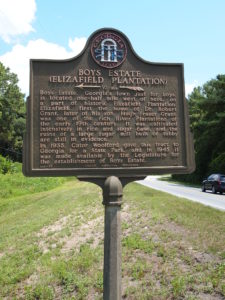 This week's #MarkerMonday examines the Boys Estate (Elizafield Plantation) historical marker in Glynn County. In the early 19th century, Elizafield Plantation operated as a rice and sugar plantation under Dr. Robert Grant. In 1833, the plantation was passed to Dr. Grant's son, Hugh Fraser Grant. After evacuating during the Civil War, the Grant family moved to Savannah and Elizafield Plantation fell into disrepair. By 1935, the former Elizafield Plantation was managed by Cator Woolford, who deeded 350 acres to the state for the development of a new state park.
The State of Georgia and the Civilian Conservation Corps used the tract of land to create Santo Domingo State Park—named after the Spanish Mission rumored to be located near the land. The park did not last long. J. Ardell Nation purchased the land from the state in 1945 and founded and directed the Boys Estate , to help orphaned boys ages 8 to 18. Inspired by the 'Boys Town' in Nebraska, the Estate was organized as its own town and government. If a problem arose, the boys worked it out themselves in court. Nation believed that by inspiring the boys to become part of the Boys Estate community, he could teach them to become upstanding citizens once they became adults.
500 boys were reportedly on the waitlist after the Estate opened. The unexpected demand resulted in a lack of housing for the boys. Local charitable and member organizations were asked to sponsor a cabin that would house twenty boys each. In return, the cabin would be named for the sponsoring organization. The estate did not receive payment for taking in the boys and relied heavily on the generosity of Georgians. As the estate began accepting girls, it was renamed the Youth Estate. Since 1996, the former Estate is known as Morningstar Youth Estate, and it is operated by Morningstar Children and Family Services, a nonprofit organization focused on providing "residential, foster care, and community counseling services to children, youth, and their families."
---
Explore the links below to learn more:
MorningStar Children and Family Services: History
Starr, Mary. "Former Boys' Estate residents return to help children." The Brunswick News, September 1, 2016.
Elizafield Plantation Record, 1838-1861 (bulk 1838-1858) from The Southern Historical Collection at the Louis Round Wilson Special Collections Library
History of the Georgia State Parks and Historic Sites Division
"Boy's Estate Seeks Funds To Provide Homes For Boys." The Forsyth County News, May 15, 1947.
"Self Governing Body Effective At Boys' Estate." The Jackson Progress-Argus, February 14, 1952.
The Georgia Historical Quarterly has published a book review relating to Elizafield Plantation which can be accessed on JSTOR. If your library does not have access to JSTOR, you can go to www.jstor.org and create a free MyJSTOR Account.