This week's #MarkerMonday commemorates the tragic final days of an American patriot, Button Gwinnett. Gwinnett was born in Gloucestershire, England in 1735.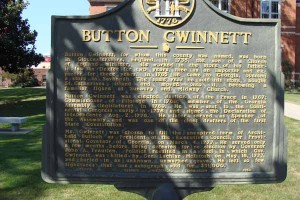 He came to Georgia in 1765 and acquired a store in Savannah. He later purchased St. Catherine's Island in Saint John's Parish (now Liberty County). He moved to the island and engaged in farming and cattle raising. Many remember Button Gwinnett for his role in the American Revolution as a signer of the Declaration of Independence, member of the Continental Congress, Speaker of the Assembly, and President of the Executive Council. He also was a member of the Convention that met in Savannah in October 1776, in which he played a prominent part in drafting the first Constitution of the State of Georgia. On May 16, 1777, Mr. Gwinnett was mortally wounded in a duel on the outskirts of Savannah with Gen. Lachlan McIntosh. He passed away a few days later on May 19.
---
Explore the links below to learn more about Button Gwinnett and his role in the American Revolution.
GHS is proud to house a collection of Gwinnett's letters and a plat of land as well as Georgia State papers from the Continental Congress from 1775-1788.