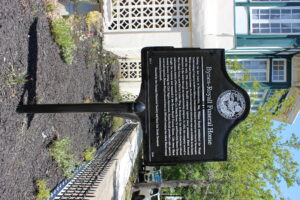 This week's #MarkerMonday looks at the Bynes-Royall Funeral Home historical marker in Chatham County, the newest Georgia Historical Marker erected as an addition to the Georgia Civil Rights Trail. Bynes-Royall Funeral Home is the oldest Black-owned business in Savannah, first opening its doors in 1876 as the Royall Mortuary Company, as a response to the Yellow Fever epidemic and to serve African Americans denied services by White funeral homes. Major William Royall also established an apprenticeship program to provide a formal mortuary training program, so Black funeral homes could be established across the state.
On August 11, 1876, Savannah's third Yellow Fever epidemic of the 19th century began spreading throughout the city, and within two weeks 1,066 Savannahians died. Some people fled the city to wait out the disease, but those who could not afford to leave were forced to face a 60 percent chance of death if they contracted the virus. After working at a White-owned funeral home during the epidemic, Major William Royall saw the need to establish Savannah's first Black mortuary, Royall Undertaking Company, to care for the city's Black residents. Prior to the establishment of Royall Undertaking Company, Black clients of White-owned funeral homes were relegated to using the back entrance.
The Royall Undertaking Company sold caskets and preserved bodies for burial on cooling boards. A body was placed on a wooden board, which was then laid on top of a 300-pound block of ice and surrounded by a curtain. Embalming was possible, but many believed it tampered with the body, so it was not widely practiced. Prior to using mortuary services and a cooling board to help preserve the body, families would be responsible for cleaning the body, preserving it with salt, and building a casket. Royall taught the cooling board practice to many Black apprentices, because there were few formal mortuary science programs offered to students in the South until the 1920s. After Royall's death in 1905, the business changed hands and locations a few times until it was purchased in 1955 by Captain Frank H. Bynes, a former apprentice of the Royall Undertaking Company and graduate of the Atlanta Mortuary College. He renamed it Bynes-Royall Mortuary. Today, the Bynes-Royall Funeral Home is still owned and operated by the Bynes family.
Explore the links below to learn more:
Bynes-Royall Funeral Home, Inc.
Struggles of the Late 19th Century 
The Georgia Historical Quarterly has published two articles relating to Bynes-Royall Funeral Home which can be accessed on JSTOR. If your library does not have access to JSTOR, you can go to www.jstor.org and create a free MyJSTOR Account.
The Southern Funeral Director: Managing Death in the New South
Black Medical Pioneers in Savannah, 1892-1909: Cornelius McKane and Alice Woodby McKane