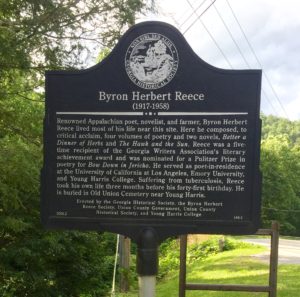 This week's #MarkerMonday highlights Georgia poet Byron Herbert Reece. Reece was born on September 14, 1917, in the Blue Ridge Mountains of North Georgia. Lauded for his ballads and lyrical poetry, Reece usually centered his poems around themes of religion, nature, death, and love. Reece's collection Bow Down in Jericho (1950) was nominated for a Pulitzer Prize.
Although his traditional poetic style was considered old-fashioned compared to modern mid-20th century poets, Reece's views on racial tolerance were progressive. He vocally supported a proposal to form a local Youth League for Tolerance in 1945, a group aimed at combatting prejudice during the larger struggle against Fascism. Reece commented that similar programs would serve as a "rebuke to those among us who profess to love democracy yet seek to subjugate certain minorities for their own gain." Furthermore, his 1955 novel The Hawk and the Sun highlights the depravity of lynch mobs. Reece wanted to demonstrate "the compulsion toward evil that is present in all of us."
Reece was a student of human nature fascinated by mankind's perversion. Indulging in periods of solitude, Reece used the time for introspection, examining the nature of man. In his poem, "Two Men in Me," Reece ponders the inner relationship between the spiritual and temporal, especially within the context of power struggles. Speaking of the soul and the body, Reece writes, "Two men in me race forth and which shall win / I do not know." The poem explores which aspect of man is more dominant: the soul that commands the body to action, or the more animalistic desires of the body that influence the soul.
Suffering from tuberculosis, Reece committed suicide on June 3, 1958, age 40, with Mozart playing on the record player. He is buried in Old Union Cemetery in Young Harris.
---
Explore the links below to learn more about Byron Herbert Reece.
New Georgia Encyclopedia "Byron Herbert Reece (1917-1958)"
The Byron Herbert Reece Society
"The Bitter Berry: The Life and Work of Byron Herbert Reece"
GHS houses several books related to Byron Herbert Reece.
Faithfully yours : the letters of Byron Herbert Reece / edited by Raymond A. Cook and Alan Jackson
Ballad of the bones : and other poems / Byron Herbert Reece ; introduction by Jesse Stuart.
Fable in the blood : the selected poems of Byron Herbert Reece / edited by Jim Clark.
Georgia voices, Fiction / edited by Hugh Ruppersburg.
The Georgia Historical Quarterly published an article related to Byron Herbert Reece which can be accessed on JSTOR. If your library does not have access to JSTOR, you can go to www.jstor.org and create a free MyJSTOR Account.
Teacher and Learner: Don West and the Democratic Classroom, 1942-1945
Further JSTOR reading.
Byron Herbert Reece: A Personal Memoir with Letters