November 11, 2018, marks 100th anniversary of the armistice that ended the First World War. In honor of this anniversary, November's #MarkerMonday posts will look at Georgia's role in the First World War.
---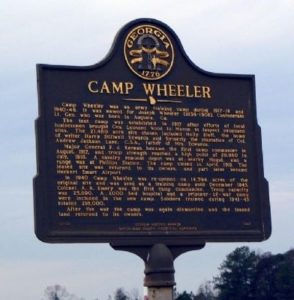 This week's #MarkerMonday highlights Camp Wheeler, in Macon, Georgia.  Following the United States entrance into World War I in 1917, sixteen Army National Guard (N.G.) Mobilization and Training Camps were established to train and integrate National Guard units for service in U.S. Army divisions. Construction on the camp, named for Confederate Lt. Gen. and later Brigadier Gen for the US Army Joseph Wheeler, began in 1917, covering nearly 21,480 acres and cost $4 million. Shortly after the arrival of the first troops, Camp Wheeler experienced an outbreak of measles, believed to have been brought to the camp on transport trains. Soldiers training at Camp Wheeler were also susceptible to the Spanish Influenza outbreaks that swept across the country in 1918. The first commander of the camp, Major General Francis J. Kernan, formed the 31st Infantry Division (N.G.), known as the "Dixie Division," and Camp Wheeler would serve as the divisions temporary training center. The 31st Infantry Division was sent to France during World War I as a replacement division, in which men were dispersed as replacements to existing units already engaged in the fight in Europe, however they never saw combat as a division. Instead, the regiments were sent to augment existing divisions and distinguished themselves in battle. Members of the 31st Infantry division would return to the United States after demobilizing in December 1918. At the end of the First World War, Camp Wheeler became a demobilization center for many soldiers returning from Europe until it's close in 1919. During the First World War, approximately, 83, 000 troops pasted through the camp. Camp Wheeler was reactivated in 1940, prior to the United States entry into World War II, and permanently closed in January 1946.
---
Explore the links below to learn more about Camp Wheeler and the role it played in the First World War.
New Georgia Encyclopedia (World War I in Georgia)
National Park Service: Ocmulgee National Monument (A list of History and Culture Sites near Ocmulgee. Camp Wheeler is listed and has a downloadable PDF)
The Patriot Files: 31st Infantry Division, "Dixie"
Encyclopedia of Alabama: Thirty-First "Dixie" Division
Related Marker Monday Posts:
The Poppy Lady (Posted May 30, 2015)
Camp Gordon (Posted November 13, 2017)
Sinking of the H.M.S. Otranto (Posted November 5, 2018)
Fort Screven (Posted November 12, 2018)
He Helped Build and Keep Fort Benning (Posted November 26, 2018)