In honor of the 2016-2017 Georgia History Festival, "A State of Innovation," the December #MarkerMonday posts will focus on Charles Holmes Herty, naval stores, and agricultural innovation in Georgia.
---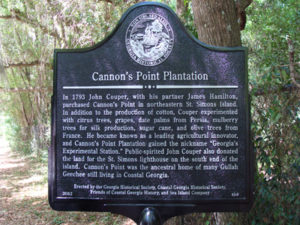 This week's #MarkerMonday features Cannon's Point Plantation and its agricultural innovations. Cannon's Point Plantation is a 600 acre plot located at the north end of St. Simons Island. The land once belonged to agriculturists John Couper and his business partner, James Hamilton. The two men purchased the land in 1793, and soon began experimenting with different forms of plant cultivation. The sandy soil was suitable for cotton, but Couper also experimented with citrus trees, grapes, date palms, sugar cane, and mulberry trees.
Perhaps the most successful of Couper's agricultural ventures were olive trees. In 1825, he learned that growing new olive trees from cuttings of previous trees was inexpensive and effective. Couper's olive trees were so bountiful that his son, James Hamilton Couper, continued his father's business and began producing olive oil. Couper experienced more agricultural success when he imported seeds and cuttings, such as English peas, peaches, nectarines, and apricots from France and Persia during the 1820s. Many people who visited Cannon's Point Plantation commented on Couper's prosperous fruit crops. Couper brought modern agricultural technology to Cannon's Point when he invited a West Indian machinist to build a roller mill for sugar cane.  Couper and Cannon's Point Plantation quickly became recognized as examples of Georgia's agricultural innovation.
Top Image from of St. Simons Land Trust. Accessed Via http://www.sslt.org/pro_cannons_point.php
---
Explore the links below to learn more about Cannon's Point Plantation:
GHS is proud to house the Couper and Fraser family papers and T. Reed Ferguson's research materials on John Couper.
GoldenIsles.com-Cannon's Point Preserve
GlynnCounty.com – Photos and Exhibits: Cannon's Point Plantation Ruins
GlynnCounty.com- Biographies: John Couper
Cannons' Point: A Gentleman's Vision Reaches Across Generations