In honor of Independence Day, the #MarkerMonday posts for the month of July will shine a spotlight on Georgia during the Revolutionary War.
---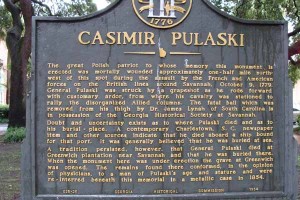 This week's #MarkerMonday highlights Casimir Pulaski, Polish patriot and officer in the American Continental Army. In March 1745, Pulaski was born into the Polish aristocracy, in Warsaw, Poland. As a young man, Pulaski's family became involved with the Confederation of Bar, a group fighting to free Poland from Russian political influence. Pulaski distinguished himself for his ability to command Polish forces against Russian soldiers. In October 1771, Pulaski was implicated in a failed plot to abduct Stanislaus II, the Russian-controlled king of Poland, and accused of treason. His estates were confiscated, and he fled to France.
While in France, Pulaski learned of the American Revolution from Benjamin Franklin, who was in France to appeal to the French government for military and financial assistance in war against the British. Pulaski sympathized with the patriot forces fighting for independence, and in 1777, he sailed to America with a letter of introduction from Franklin. He joined George Washington's Army at the Battle of Brandywine. Following the battle, Washington and the Continental Congress promoted him to brigadier general and "Commander of the Horse." Pulaski went on to serve at the Battle of Germantown and spent time with the Continental Army in Valley Forge, Pennsylvania, during the winter of 1777-78. In December 1778, the British captured the City of Savannah. Washington sent Pulaski and his cavalry unit, known as the Pulaski Legion, south to help liberate Savannah from British occupation. Joining the Continental Southern Army in 1779, the Pulaski Legion participated in the Siege of Charleston. By mid-September the Pulaski Legion traveled with General Benjamin Lincoln to retake Savannah. During a cavalry charge on October 9, 1779, Pulaski was mortally wounded by a grapeshot. The exact circumstances of Pulaski's death and burial are disputed. The standard account of his death comes from Captain Paul Bentalou in which Pulaski died of gangrene aboard the Continental brigantine Wasp after Dr. James Lynah removed the grapeshot from his leg. Reports of his burial vary, with his body being buried at sea, in South Carolina, and at Greenwich Plantation in Thunderbolt, Georgia. For his role in the American Revolution, Pulaski is honored around the United States. He was also granted honorary American citizenship in 2009, one of only seven individuals to receive this honor.
---
Explore the links below to learn more about the life of Casimir Pulaski and the American Revolution in Georgia.
GHS is proud to house the grapeshot that mortally wounded Casimir Pulaski. The grape shot is mounted on a silver candlestick and on display in the GHS Research Center.
Pulaski Monument historical marker text
General Casimir Pulaski/Sergeant William Jasper historical marker text
Georgia and the American Revolution: Casimir Pulaski
Today in Georgia History (Casimir Pulaski)
Today in Georgia History (Siege of Savannah Begins)
New Georgia Encyclopedia (Revolutionary War in Georgia)
New Georgia Encyclopedia (Casimir Pulaski in Georgia)
American Battlefield Trust: Casimir Pulaski
Encyclopedia.com: Casimir Pulaski
Savannahgetaways.com: Just who is buried in Monterey Square at the base of the Pulaski Monument?
History.com: America's Honorary Citizens
The Latin Library: Casimir Pulaski
Further Reading
Anon., "Account of the Siege of Savannah, from a British Source," Collections of the Georgia Historical Society 5, pt. 1 (Savannah, Ga.: Braid and Hutton, 1901).
Jamro, R. D. Pulaski: A Portrait of Freedom (Savannah, Ga.: Printcraft, 1979).
Kajencki, Francis Casimir. Casimir Pulaski: Cavalry Commander of the American Revolution. El Paso, Tex.: Southwest Polonia Press, 2001.
Lawrence, Alexander A. Storm over Savannah: The Story of Count d'Estaing and the Siege of the Town in 1779 (Athens: University of Georgia Press, 1951).
The Georgia Historical Quarterly has published several articles related to Casimir Pulaski and the Revolutionary War in Georgia which can be accessed on JSTOR. If your library does not have access to JSTOR, you can go to www.jstor.org and create a free MyJSTOR Account.
Related #MarkerMonday Posts
Archibald Bulloch (Posted July 31, 2017)
Attack on British Lines (Posted July 2, 2018)