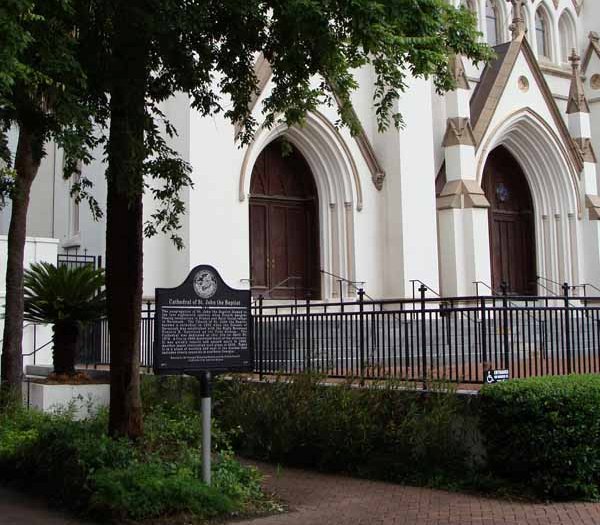 This week's #MarkerMonday highlights the architecture of the Cathedral of St. John the Baptist in Savannah. Although Haitian and French immigrants established the Congregation de Saint Jean-Baptiste in the late 1700s, the cornerstone for the present Cathedral of St. John the Baptist was laid on November 19, 1873 by the Right Reverend Ignatius Persico. The architect, Ephraim Francis Baldwin, designed the church in a High Victorian Gothic style that incorporated French building traditions.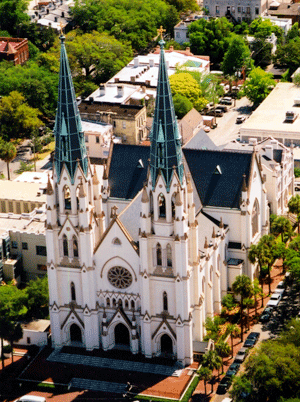 One prominent aspect of High Victorian Gothic, or Gothic Revival, architecture is the sense of height from the structure. From outside the Cathedral, the two large, spired towers that reach into the sky appear as the most evident manifestation of this architectural characteristic, although the steep gabled roof between them similarly displays this quality. It is also evident in the iconic pointed arch windows and doorways, which convey a feeling of ascendance to a central point. Similarly, within the Cathedral the cross-ribbed vault ceilings were intended to give parishioners the feeling of being closer to God.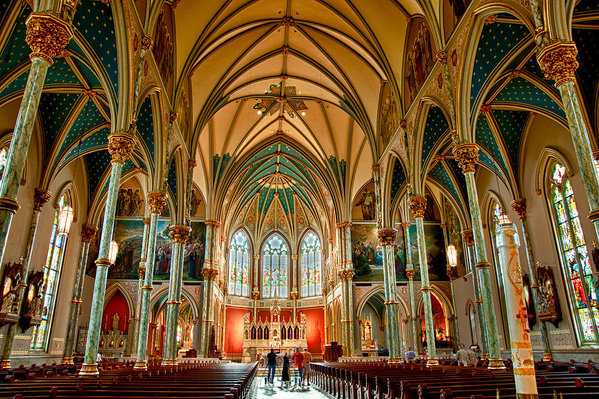 Furthermore, the Cathedral is built of brick masonry, which the trend favored, and was stuccoed and whitewashed in 1896 (around the same time the spires were added). It also incorporates another feature of High Victorian Gothic: polychromy, the use of contrasting colors, which is ornately highlighted on the inside, but also evident in the exterior. Like many French Gothic cathedrals, the layout represents a Latin cross, which is especially noticeable from an aerial view with the contrast created by the hip and gable roof. Reinforcing the ornateness of the Gothic style is the Cathedral's decorative tracing within the rose window, slimmer columns that meet the vaulted ceilings, and the decorative carvings and colors within the sanctuary.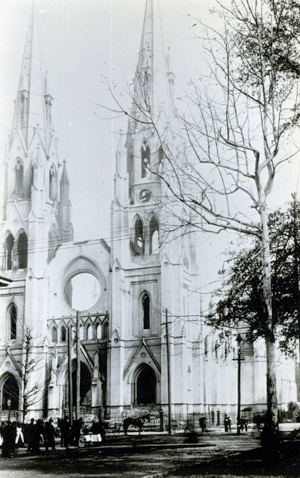 However, the current interior is not original to the Cathedral. On February 6, 1898, fire ravaged the Cathedral leaving only the brick walls and spires intact. Although the Cathedral re-opened in 1899, it took until 1912 to finish the ornate decoration and artwork.
---
Explore the links below to learn more about the Cathedral of St. John the Baptist.
Cathedral of St. John the Baptist "Church History"
Baltimore Architecture Foundation "E. (Ephraim) Francis Baldwin 1837-1916"
Department of Natural Resources "High Victorian Gothic Style"
Boundless Art History "The Gothic Revival"
French Gothic Architecture: Features and Characteristics
GHS houses several collections related to the Cathedral of St. John the Baptist.
Marmaduke Hamilton and Dolores Boisfeuillet Floyd papers, 1562-1970.
Our heritage, our future : the Cathedral of St. John the Baptist, 1799-1963.
Walter Charlton Hartridge, Jr. collection. Series VII : genealogies; Dowell family, 1700s-1900s / Walter Charlton Hartridge.
The Georgia Historical Quarterly published an article related to Gothic architecture which can be accessed on JSTOR. If your library does not have access to JSTOR, you can go to www.jstor.org and create a free MyJSTOR Account.By Design: The Social Meaning of Methodist Church Architecture in Nineteenth-Century Georgia