In honor of the 2016-2017 Georgia History Festival, "A State of Innovation," the November #MarkerMonday posts will focus on Sequoyah, the creation of the Cherokee alphabet, and the Cherokee Nation. Over the course of the month, these posts will discuss Sequoyah, his efforts to create a written alphabet for the Cherokee Nation, and the forced removal of the Cherokee from Georgia along the Trail of Tears.
---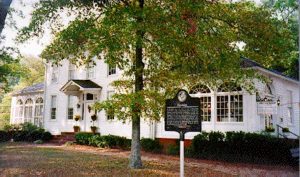 This week's #MarkerMonday addresses the Treaty of New Echota and one of its signers, Major Ridge. Born in the Tennessee, Major Ridge moved to Pine Log, Georgia (in present day Bartow County) after his marriage to a fellow Cherokee, Susanna Wickett in the 1790s.  Known for his military experience, Ridge joined forces with General Andrew Jackson to fight the Creek Indians and British during the War of 1812. After the war, Ridge and his family relocated to a plantation in present-day Rome, Georgia. Ridge worked with John Ross, his friend and neighbor, to establish the Cherokee Nation in 1827.
Upon the establishment of a three branch government Ross was elected principal chief with Ridge serving as counselor.  Modelling its government after that of the United States, Ridge and the Cherokee people believed that the Cherokee had succeeded in becoming a "civilized" nation. The Cherokees were in turn shocked when the US Congress passed the Indian Removal Act in 1830, authorizing the removal of Native Americans living in the American Southeast to federal territory west of the Mississippi River in exchange for their ancestral land. The Cherokee had some success fighting the Act in 1832 with the US Supreme Court decision of Worcester v. Georgia, ruling that the Cherokee Indians constituted a nation and had distinct sovereign power as such. However, Presidents Jackson and Van Buren ignored the ruling in favor of the Indian Removal Act. In 1835, Major Ridge and a few other Cherokee leaders negotiated the Treaty of New Echota without the approval of Chief Ross and the Cherokee Nation, ceding Cherokee land to the U.S. for $5 million.
Top Image Details from map of Georgia for Sherwood's Gazetteer of Georgia, ca.1830. Courtesy of the Georgia Historical Society Map Collection, MS 1361-MP 079.
---
Explore the links below to learn more Major Ridge and the legal struggles of the Cherokee Nation.
GHS is proud to house the Cherokee Indians relocation papers, 1815-1838. This collection includes correspondence, a power of attorney, and statements by The Rising Fawn and The Flute (or Old Turkey), two Cherokee men.
Sequoyah is one of GHS' Featured Historical Figure for the 2016-2017 Georgia History Festival. Check out the GHS' online learning materials.
Today in Georgia History Video
New Georgia Encyclopedia-Major Ridge
New Georgia Encyclopedia-Worcester v. Georgia
New Georgia Encyclopedia-Cherokee Indians
New Georgia Encyclopedia-Sequoyah
The Sequoyah Birthplace Museum