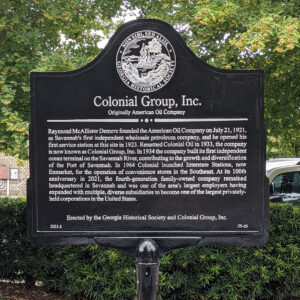 This week's #MarkerMonday highlights the Colonial Group, Inc. historical marker in Chatham County, the newest Georgia Historical Marker erected as an addition to the Business History Initiative. With annual sales in excess of $2 billion and over 2,000 employees, Colonial Group is ranked among the top 200 of America's largest privately-held companies. This fourth-generation, family-owned corporation specializes in diversified energy and port-related activities concentrated in nine separate companies included under the umbrella of Colonial Group, Inc. Together they provide insight into some of the major themes of Georgia's economic development over the last century.
The following is taken from educational materials created as part of the Georgia Business History Initiative:
At the end of World War I, things were changing in Georgia. Thanks to the Federal Aid Road Act of 1916, improvements were being made to the Georgia state road system. During the 1920s, more and more roads were paved. By 1922, Georgia had 5,500 miles of roads, of which 166 miles were paved, and more than 1,400 bridges.
Returning from the war, Raymond Demere saw that the popularity of the automobile was increasing and, as a result, so was the demand for automotive fuel. In 1921, Demere purchased a 55-gallon barrel of oil and founded Savannah's first independent wholesale petroleum company, the American Oil Company, on July 21, 1921, and opened his first service station in 1923. In 1933, Standard Oil Company of Indiana purchased the American Oil Company name and Demere renamed his company Colonial Oil.
---
To learn more about the growth of Colonial Group, Inc. and its subsidiaries, read the in-depth profile and accompanying case study for classroom use created as part of the Business History Initiative to teach about Colonial's impact on the development of Georgia.