In honor of the 2016-2017 Georgia History Festival, "A State of Innovation," the February #MarkerMonday posts will focus on Savannah, the founding city of Georgia, and the many different groups of people that came to settle in Georgia. Over the course of the month, these posts will discuss four different communities that settled in Savannah and south Georgia.
---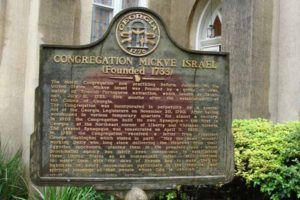 This week's #MarkerMonday highlights the oldest Congregation now practicing Reform Judaism in the United States.  Congregation Mickve Israel was founded by a group of 42 Jewish settlers, which landed at Savannah on July 11, 1733, five months after the establishment of the Colony of Georgia. The migrants arrived onboard the ship William and Sarah on a trip financed by members of a London synagogue.
The majority of the group were Jews of Spanish and Portuguese heritage and had previously survived the Spanish and Portuguese inquisitions, the rest were of German descent.  They brought with them a Torah scroll which survives to this day. One of the settlers was Dr. Samuel Nunes, a physician who used his medical training to save the lives of many colonists suffering from yellow fever. During the war between England and Spain in the 1740s, known as the War of Jenkins' Ear in the United States, many of the Jews of Spanish and Portuguese heritage fled Savannah fearing the possibility of being captured by the invading Spanish army. Some would return to Savannah after the Spanish were defeated. The Congregation was incorporated in perpetuity by a special act of the Georgia Legislature on November 20, 1790. After having worshipped in various temporary quarters for almost a century, in 1820 the Congregation built its own Synagogue — the first in Georgia — at the Northeast corner of Liberty and Whitaker Streets. The present Synagogue was consecrated on April 11, 1878.
Top Image: Postcard image of Congregation Mickve Israel. Courtesy of the Georgia Historical Society Collection of Postcards, MS 1361.
---
Explore the links below to learn more about the first Jewish settlers in Georgia and Congregation Mickve Israel.
GHS is proud to house a Silver Kiddush cup that belonged to Philip Minis and several photographs of Congregation Mickve Israel which can be referenced through the GHS Digital Image Catalog, search "Mickve Israel."
Mickve Israel was a participating site in the 2017 Super Museum Sunday. In case you missed it on February 5, check out the above link to the SMS blog post learn more about Super Museum Sunday and planning your visit to Mickve Israel.
Today in Georgia History Video
New Georgia Encyclopedia (Congregation Mickve Israel)  
New Georgia Encyclopedia (Judaism and Jews)
Oglethorpe and Religion in Georgia
Georgia Info: Timeline of Georgia as an English Colony (1732-1775)