This week GHS will highlight President Franklin Roosevelt's impact on the state of Georgia in commemoration of the 75th anniversary of his death on April 12, 1945, at the Little White House in Warm Springs.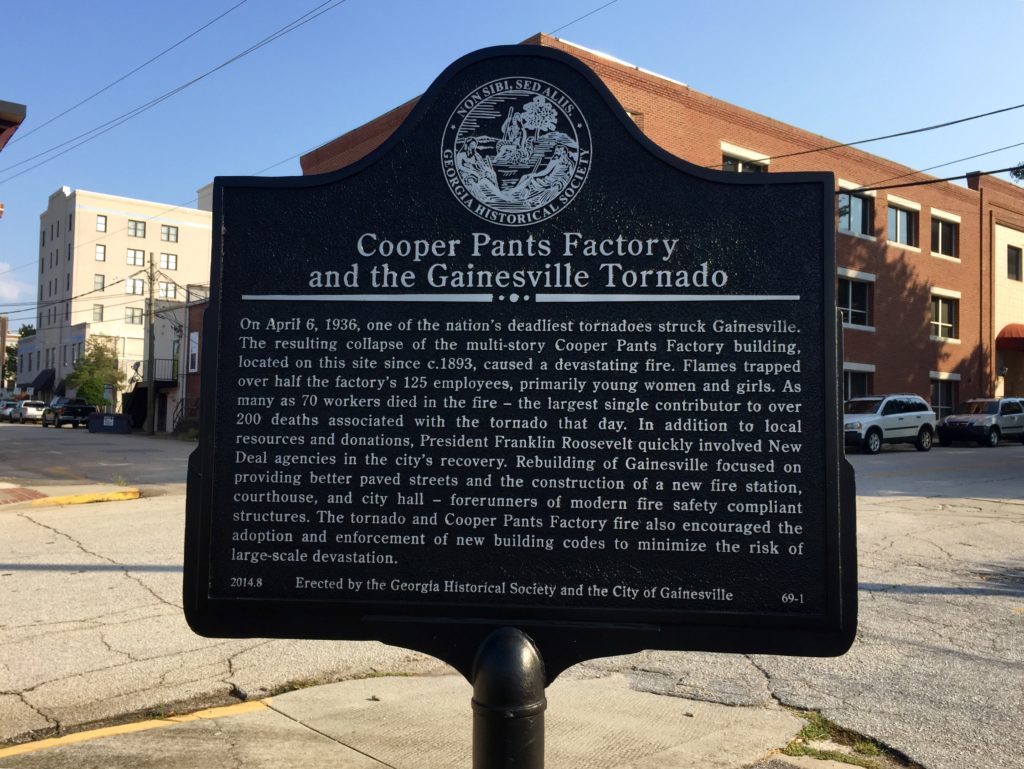 We are starting with this week's #MarkerMonday, looking at the Cooper Pants Factory and the Gainesville Tornado historical marker in Hall County. On this day (April 6) in 1936, two tornados traveled through Gainesville, leaving over 200 people dead, 1,600 injured, and 2,000 homeless. President Franklin Roosevelt visited Gainesville three days after the storm to assess the damage. He immediately worked with New Deal agencies to help rebuild the destroyed city.
Fires erupted in some of the buildings destroyed by the tornados, and quickly spread to other buildings in the city. One of the buildings that caught fire was the Cooper Pants Factory. When the electricity went out and the factory began to collapse, the employees—mainly women and young girls—were trapped inside, as there was only one staircase leading to an exit. As many as 70 of the trapped employees died as a result of the fire.
More people were trapped under debris around the city due to the tornado and subsequent fires. When President Roosevelt visited Gainesville, he saw first-hand the city-wide destruction. He involved New Deal agencies, including the Civilian Conservation Corps, Emergency Relief Association, and Works Progress Administration, to work with the city and local organizations to repair the damages and provide aid to those affected.
During this time of regrowth, new safety standards were put in place to help prevent devastation from future storms. Destruction to the fire station prevented a response to buildings like the Cooper Pants Factory, so the new station was built to withstand strong tornado winds. Roads were repaved, while churches, city, and commercial buildings were rebuilt with the adoption of new building codes to enforce sturdier buildings and limit the spread of potential fires. In March 1938, President Roosevelt returned and spoke to the people of Gainesville as part of the dedication ceremony of their rebuilt city. For his support, the citizens thanked him with a marble monument erected in his honor outside the Hall County Courthouse.
---
Explore the links below to learn more:
Today in Georgia History – Gainesville Tornado of 1936, April 6, 1936
The 1936 Gainesville Tornado: Disaster and Recovery, a project by the Digital Library of Georgia
GHS houses a collection related to the Cooper Pants Factory and the Gainesville Tornado.