To highlight this year's Georgia History Festival theme, "A Legacy of Leadership," December's #MarkerMondays explore medical history in Georgia and the Georgians who were pioneers in their field.
---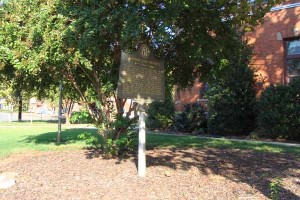 This week's #MarkerMonday highlights Dr. Crawford W. Long, the first doctor to use ether as an anesthetic during surgery. On November 1, 1815, Crawford W. Long was born to James and Elizabeth Long in Danielsville, Georgia. At the age of 14, Long attended the University of Georgia, receiving his master's degree in 1835. The following year, Long began his medical studies at Transylvania College in Kentucky, later transferring to the University of Pennsylvania. After graduating in 1839, Long completed a hospital internship in New York before returning to Georgia in 1841 to set up his medical practice in Jefferson.
During his studies Long witnessed the excruciating pain of patients undergoing surgery, and the traditional pain relief methods, which often included alcohol and hypnotism, offered little pain relief. After attending "ether frolics," parties where people inhaled nitrous oxide (laughing gas), Long noticed participants appeared to feel no pain.  On March 30, 1842, with three witnesses, Long successfully performed an operation on James Venable to remove a neck tumor using ether as an anesthesia. Long performed several more surgeries but did not publish his findings until 1849, a decision that caused many in the medical community to question his claims. The following year, Long moved to Athens, Georgia. He died June 16, 1878 and is buried in Athens. Posthumously, the National Eclectic Medical Association declared that Long as the discoverer of anesthesia on June 18, 1879. Long County and Crawford Long Hospital (now Emory University Hospital Midtown in Atlanta) are both named in his honor. A statue of Long was given to the National Statuary Hall Collection at the United States Capitol Building by the State of Georgia in 1926.
---
Explore the links below to learn more about Dr. Crawford Long and the history of anesthesia.
GHS is proud to house the Georgia Medical Society Records, which includes Allen J. Smith's 1915 article, "Documentary Evidence Bearing Upon Dr. Crawford W. Long's Discovery of Ether Anesthesia."
American National Biography Online: Crawford Williamson Long
Crawford W. Long Museum: Our History
Georgia Stories: What Would Surgery be Like Without Anesthesia? (PBS video and teacher guide)
Explorable.com: History of Anesthesia