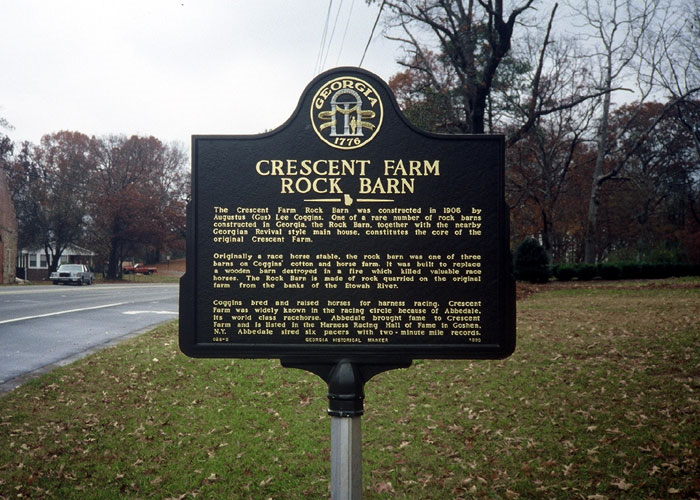 The origins of harness racing date back to chariot racing, surfacing in Rome as early as the 8th century BCE. The sport quickly grew in Rome, and the development of teams allowed fans to feel involved and identify with their favorite. The Circus Maximus was built to house the popular sport, which could hold over 200,000 people. The last official chariot race at the Circus Maximus took place in 549 CE.
Although cart racing continued to develop, today's harness racing began around the 19th century, when modifications to the carts allowed them to be lighter and faster. The first two-minute mile record, by a pacer horse, was set in 1897 by Star Pointer. Crescent Farm's famed horse, Abbedale, came close to the two-minute mile record himself, with 2:01 ¼ minutes, and eventually sired six horses that achieved that milestone. This earned him induction into the Harness Racing Hall of Fame in Goshen, New York, in 1955.
---
Explore the links below to learn more about Crescent Farm Rock Barn and the history of Harness Racing.
The Crescent Farm Rock Barn by Nikolas Kekel
Harness Racing Museum and Hall of Fame
Encyclopedia Britannica "Harness Racing"
Pennsylvania Horse Racing Association
The Georgia Historical Quarterly has published an article relating to the Crescent Farm Rock Barn which can be accessed on JSTOR. If your library does not have access to JSTOR, you can go to www.jstor.organd create a free MyJSTOR Account.
Who Was the Real Gus Coggins?: Social Struggle and Criminal Mystery in Cherokee County, 1912-1927