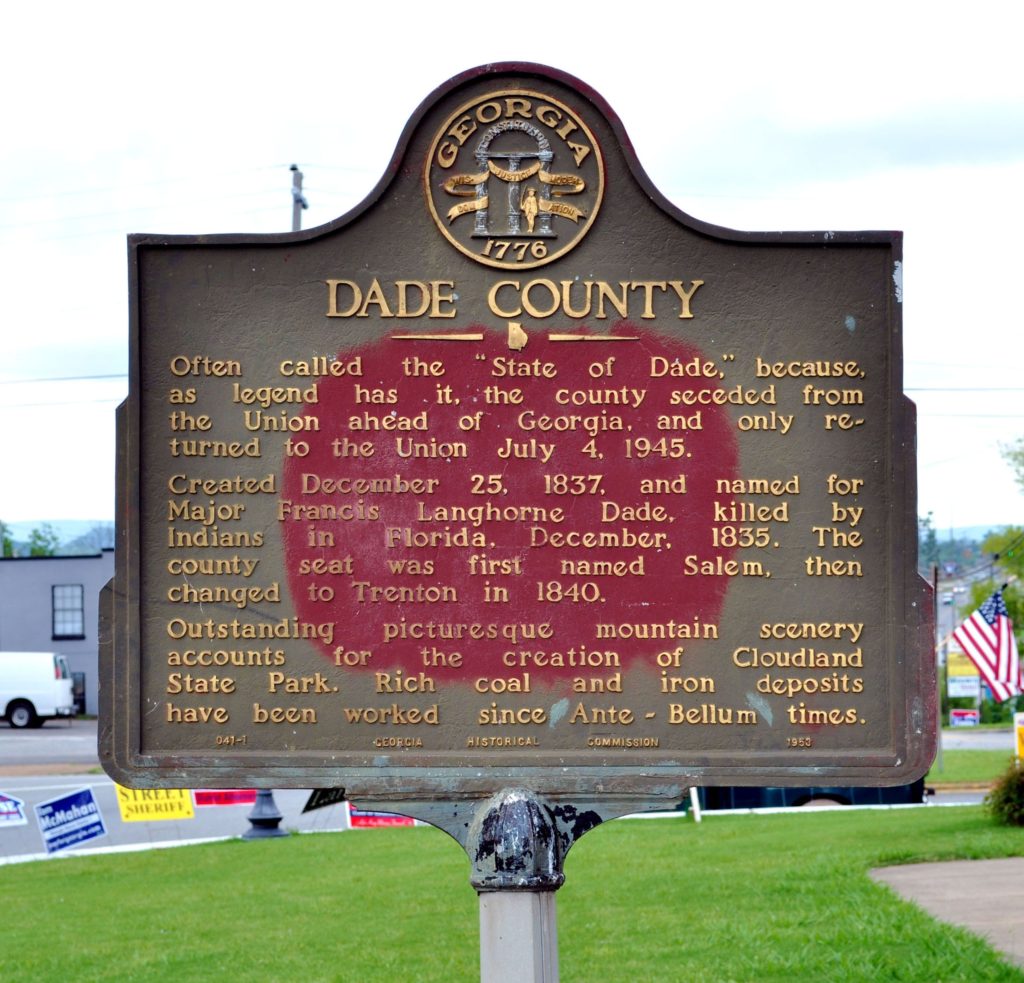 This week's #MarkerMonday discusses the Dade County historical marker and its reference to the "State of Dade." On December 25, 1837, Dade County was created with Salem as the county seat, before changing its name to Trenton in 1840. Dade County is the northwestern most county in Georgia and home to Cloudland Canyon State Park.
In popular lore Dade County seceded from Georgia and the United States in 1860, becoming the Independent State of Dade. According to legend, In May 1860 a Senator named Robert H. "Uncle Bob" Tatum left the Georgia General Assembly in Milledgeville after threatening Dade County's secession if the decision for Georgia to secede was not made immediately. He then called a meeting in Trenton and asked the townspeople to vote. In May 1860, Dade County "seceded" from Georgia and the United States of America eight months before Georgia in January of 1861. On July 4, 1945, Trenton was filled with people celebrating what was advertised as the county's first Fourth of July celebration in 85 years. As World War II was ending a surge of patriotism inspired the people of Dade County to "rejoin" the United States.
Popular lore, however, doesn't correspond to the facts, leading some to believe that Dade County never seceded into its own sovereign territory. As E. Merton Coulter explained in his 1957 Georgia Historical Quarterly article, "The Myth of Dade County's Seceding From Georgia in 1860," the dates do not align, Uncle Bob was not a member of the Senate, and the delegates sent to the Georgia Secession Convention from Dade County in 1861 voted not to secede. Although records refer to the county as the State of Dade, there are additional mentions of the "State of Dade" predating the 1860s.
---
Dade County, Georgia-State of Dade
The Georgia Historical Quarterly has publishedan article relating to Dade County which can be accessed on JSTOR. If your library does not have access to JSTOR, you can go to www.jstor.org and create a free MyJSTOR Account.