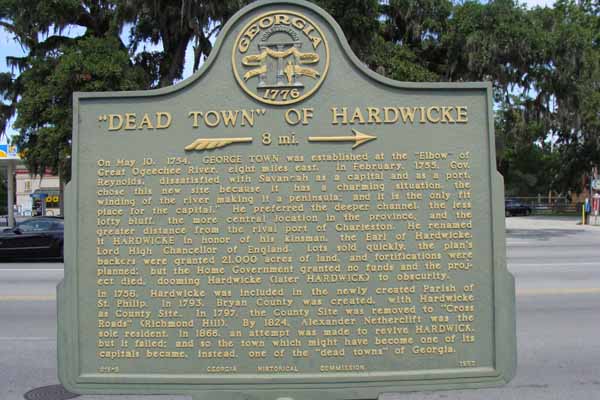 This week's #MarkerMonday explores the "Dead Town" of Hardwicke. The city of Hardwicke was once located in the Parish of St. Phillip, today's Bryan County. It was originally named George Town in 1754 in honor of George, the Prince of Wales, but the name was changed to Hardwicke in 1755 by Georgia's first Royal Governor, John Reynolds, in honor of his kinsman the Earl of Hardwicke, Lord High Chancellor of England.
Fourteen miles inland from the Atlantic, Governor Reynolds selected a bluff that had "a charming situation, the winding of the river making it a peninsula; and it is the only fit place for a capital." Naming the bluff Hardwicke, Reynolds believed the location would provide a more prominent port centrally located along the Georgia coast and would remove competition from the port in Charleston. Reynolds' successor supported his plan for a new capital, however, the third Royal Governor, James Wright, believed Savannah's proximity to Charleston was beneficial to trade and thought moving the capital would interrupt the Native American trade relations built around Savannah.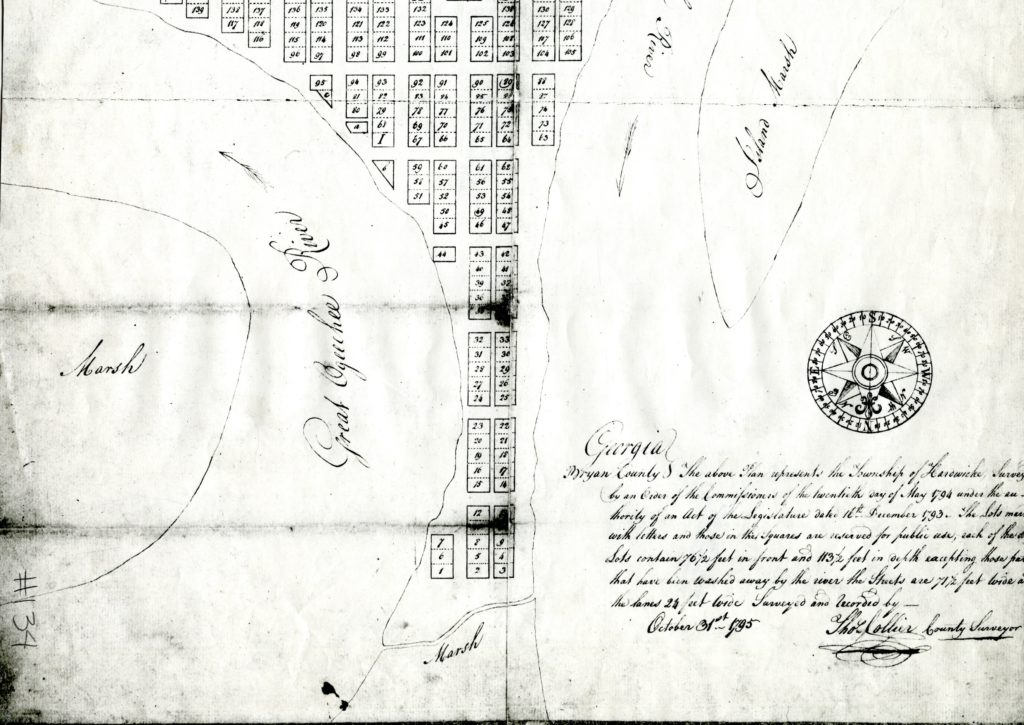 Lots were granted for Hardwicke, but people were hesitant to move before a courthouse, jail, and other public buildings were built there. Governor Reynolds wrote to England for the funds to prepare the future capital, but his request was denied. Few people moved to Hardwicke, but the funds from land sales were used to build the public buildings. In 1793 Hardwicke became the county seat of Bryan County, but it never flourished beyond a small trading village. It is believed there were never more than 100 residents in Hardwicke, and by 1824 there was only one. In 1866 there was another attempt to revive Hardwicke as Hardwick, but the town never grew.
---
Explore the links below to learn more:
Related Marker Text – Hardwicke
The Dead Towns of Georgia by Charles Jones
New Georgia Encyclopedia – Georgia's Historic Capitals
New Georgia Encyclopedia – John Reynolds (ca. 1713-1788)
Library of Congress – An exact-plan of George-Town so named by Patrick Graham, Esqr., President of the Province of Georgia, in honr. to His Royal Highness George, Prince of Wales, &ca.
GHS houses several collections related to Hardwicke.
Map of Chatham Co., Hardwick to Sunbury