In honor of the 2016-2017 Georgia History Festival, "A State of Innovation," the January #MarkerMonday posts will focus on Georgia businesses and the GHS Business History Initiative. Over the course of the month, these posts will highlight the impact of Georgia businesses on the state and national economies, and also explore how Georgians have influenced the larger economic landscape.
---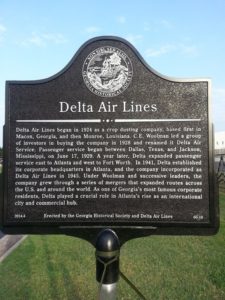 The week's #MarkerMonday is dedicated to the crop dusting company turned world class airline, Delta Air Lines, Inc.  Originally based out of Macon, Georgia, and later Monroe, Louisiana, Delta Air Lines began in 1924 as Huff Daland Dusters. In 1928, C.E. Woolman led a group of investors in buying the company and renamed it Delta Air Service. Delta offered passenger service to Atlanta for the first time on , but was forced to stop because it did not get an airmail contract from the United States Post Office.   Air travel was not yet a popular means for transportation, meaning that without the funds provided in an airmail contract, Delta could not afford to continue its passenger services to Atlanta. In 1934, Delta won a new airmail route that allowed renewed passenger service to Atlanta, making the city an increasingly important stop.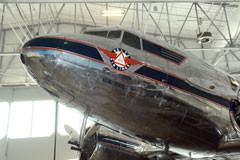 With Atlanta's leaders, like William B. Hartsfield, committed to aviation, the city became a growing aviation center. In 1941, Delta moved its corporate headquarters from Monroe, Louisiana, to Atlanta, the center of its 16-city route system. Atlanta's Hartsfield-Jackson Airport became the busiest airport in the world for passenger service in 2001. Today, Delta serves over 180 million passengers and provides over 15,000 flights daily to 54 countries around the world.
Top image is Municipal Airport postcard from Georgia Historical Society Collection of Postcards, MS 1361-PC-12AtlantaFldrD.
---
Explore the links below to learn more about Delta Air Lines.
GHS is dedicated to telling the stories of iconic Georgia businesses, like Delta Air Lines, through the Georgia Business History Initiative. GHS as also developed educational materials for Delta in the form of a Case Study.
Today in Georgia History Video
Delta: Corporate Stats and Facts