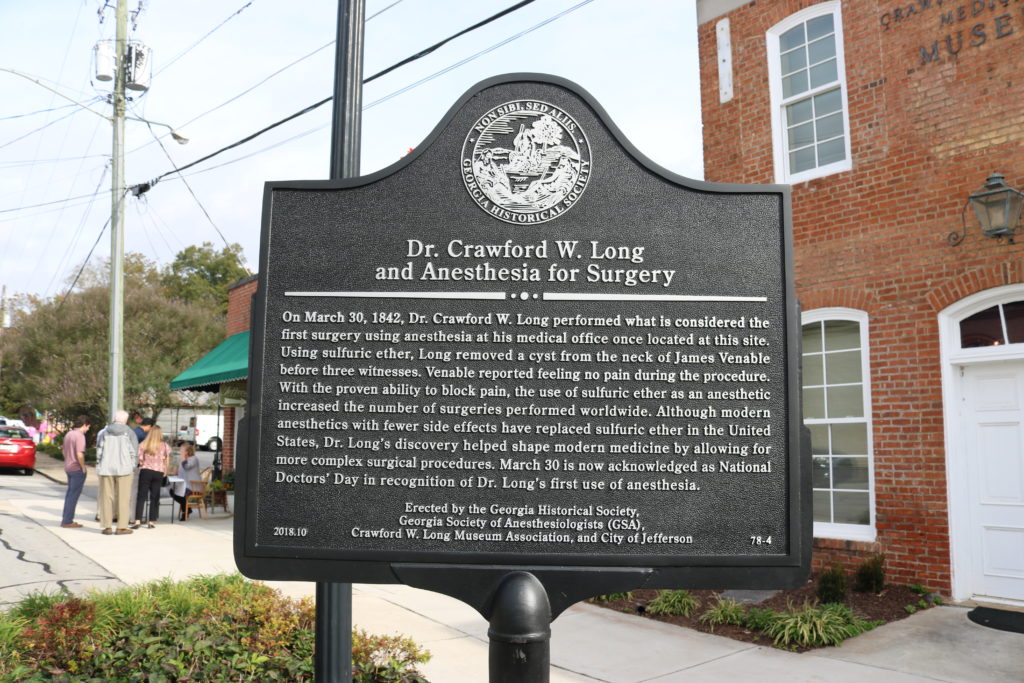 In recognition of National Doctors' Day (March 30), this week's #MarkerMonday explores the Dr. Crawford W. Long and Anesthesia for Surgery historical marker in Jackson County. On this day in 1842, Dr. Crawford Long performed what is considered the first surgery using anesthesia. However, the first observance of National Doctors' Day was not celebrated until March 30, 1933. Eudora Brown Almond, the wife of a doctor in Winder, Georgia, thought that her husband and other medical doctors deserved recognition for their work in healthcare. National Doctors' Day became an official holiday in the United States in 1990.
Prior to the use of anesthesia, doctors had many methods to help patients manage pain during procedures, although none of them blocked it completely. Alcohol, hypnosis, biting a leather strap, laughing gas, and opium were used to help patients undergoing surgery before the use of anesthesia. Surgeons often worked quickly and efficiently to limit the amount of pain during surgeries. They would practice amputations and common surgeries on cadavers, so they could limit the amount of time a wound was open before they could close it and it could begin healing.
After graduating in 1839, from Transylvania University in Lexington, Kentucky, Dr. Long opened a practice in Jefferson, Georgia, in 1841. He credits his discovery of sulfuric ether as an anesthetic to his recreational use of it. "Laughing gas parties" became popular during the early 1800s, and when the people of Jefferson learned about the effects of nitrous oxide, they requested the help of Dr. Long. Although Dr. Long was not able to provide nitrous oxide, he recalled similar effects from sulfuric ether. As recreational use continued, he noticed bruises that he, and others, could not remember receiving or any pain associated with them. Dr. Long tested his newly formed hypothesis on James Venable, who dreaded the pain that would come with removing a tumor from his neck. Venable inhaled the ether on a towel continuously during the surgery and—pain-free—could not believe that the surgery was completed.
---
Explore the links below to learn more:
Today in Georgia History – Crawford Long, November 1, 1815
New Georgia Encyclopedia – Crawford Long (1815-1878)
Augusta University –Southern Medical and Surgical Journal, 1849
"Crawford Long and the Discovery of Anesthesia" in The Georgia Review
National Today – Doctors' Day
The Georgia Historical Quarterly has published book review relating to Dr. Crawford Long and Anesthesia for Surgery which can be accessed on JSTOR. If your library does not have access to JSTOR, you can go to www.jstor.org and create a free MyJSTOR Account.
Reviewed Work: The First Anesthetic. The Story of Crawford Long by Frank Kells Boland