To further explore this year's Georgia History Festival theme, "The United States Constitution: Ensuring Liberty and Justice for All," December's #MarkerMondays highlight Georgians' contributions to the development of a government elected by, accountable to, and representative of the citizenry.
---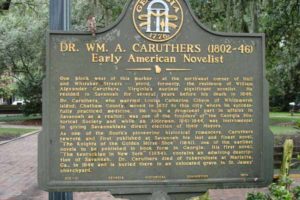 This week's #MarkerMonday highlights Dr. William A. Caruthers and his role in helping Savannahians gain the direct election of their mayor. From Savannah's first municipal election as an incorporated city in 1790 until the election of 1844, Savannahians elected aldermen who, upon their first meeting, chose a mayor from amongst themselves. Dr. Caruthers, who had moved from Virginia to Savannah in 1837, was first elected to the Savannah Board of Aldermen, now commonly referred to as "City Council", in 1841.
During that time, Whigs, who supported a strong federal government, and Democrats, who favored strong state government, vied for power. Upon election, Dr. Caruthers, a self-proclaimed "good Whig", enjoyed a first term in which Whigs attained a majority of aldermen positions, and in turn elected one of their own, William Thorne Williams, as mayor. This system of alderman electing a mayor from amongst themselves had at least one inherent flaw however: the majority party obtained increasing power by selecting the mayor.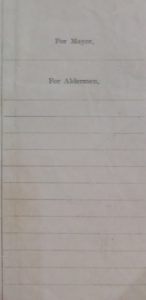 On June 30, 1842, Alderman Caruthers put forth a resolution for the appointment of a committee that would appeal to the Georgia General Assembly to amend the Act of Incorporation to allow for the direct election of the Mayor of Savannah by the people. The resolution passed, with Mayor Williams appointing Dr. Caruthers, Judge William Law, and J. Anderson to prepare a statement and petition for the Legislature.
On December 25, 1843, during Alderman Caruthers' second and last term, the Georgia General Assembly passed an act "to alter the time for the election of the Mayor and Aldermen of the city of Savannah [and] to make the Mayor elective by the people." During the 55th Administration, beginning on December 9, 1844, Dr. Richard Wayne became the first Savannah mayor elected directly by the people.
---
Explore the links below to learn more about Dr. Caruthers and the government of the City of Savannah.
Acts of the State of Georgia 1843 p. 56-58
A List of Mayors and Aldermen of the City of Savannah, Georgia, 1790-2012
GHS is proud to house several collections related to Dr. William A. Caruthers and the government of the City of Savannah.
Curtis Carroll Davis collection on William A. Caruthers, 1841-1957.
Chronicler of the cavaliers; a life of the Virginia novelist, Dr. William A. Caruthers.
A history of the city government of Savannah, Ga., from 1790 to 1901
The Georgia Historical Quarterly published articles related to William A. Caruthers which can be accessed on JSTOR. If your library does not have access to JSTOR, you can go to www.jstor.org and create a free MyJSTOR Account.
Reviewed Work: Chronicler of the Cavaliers: A Life of the Virginia Novelist Dr. William A. Caruthers by Curtis Carroll Davis
CARUTHERS CONFRONTS THE BUREAUCRATS