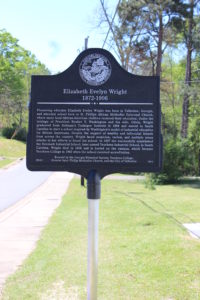 This week's #MarkerMonday highlights the life of Elizabeth Evelyn Wright, pioneering educator and founder of Voorhees College. In 1872, Elizabeth Evelyn Wright was born in Talbotton, Georgia, the seventh of 21 children to John Wesley Wright and his wife, Virginia Rolfe. Growing up, Wright attended school at St. Phillips African Methodist Episcopal Church. At 16 years-old, Wright enrolled in Alabama's Tuskegee Normal and Industrial Institute (now Tuskegee University). After graduating in 1894, Wright moved to South Carolina to start a school of African-American students based on the Tuskegee model of industrial education for African Americans. Her early attempts to open a school for African-American children failed due to a mysterious arson case and other threats by local white communities.
In 1897, she successfully established the Denmark Industrial School in Denmark, South Carolina. Wright secured funding for the school from 33 churches and individuals in surrounding communities. When the Denmark Industrial School opened its doors, there were 14 students enrolled. By the fall of the following year, nearly 250 students were enrolled in the school. In 1902, the school changed its name to honor Ralph and Elizabeth Voorhees of New Jersey, who assisted in the purchasing of a 280-acre parcel of land for the school to expand. Voorhees Industrial School opened its doors to students from elementary to high school. In June 1906, Wright married Martin A. Menafee. In the months following her marriage, Wright became ill, suffering from intestinal issues. She traveled to Battle Creek, Michigan, for surgery and later died in the hospital on December 14, 1906. Wright is buried in the Memorial Garden on the Voorhees College campus.
---
Explore the links below to learn more about Elizabeth Evelyn Wright and Voorhees College.
BlackPast.org: Elizabeth Evelyn Wright
South Carolina African American History Calendar: Elizabeth Evelyn Wright
South Carolina Encyclopedia: Elizabeth Evelyn Wright
The Times and Democrat: History has missed the legacy of Voorhees College founder
The Times and Democrat: Talbotton, Ga., remembers Voorhees College founder Elizabeth Wright
The Time and Democrat: V-shaped tree marks grave of Voorhees' visionary founder
Further Reading
Coleman, J. Tuskegee to Voorhees. Columbia, S.C.: R. L. Bryan, 1922.