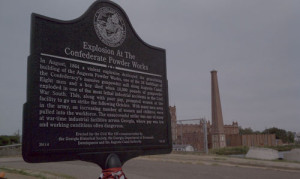 The Georgia Historical Society's Historical Marker Program is a great way to learn about history in the places where it happened. Every Monday we will feature a marker that can be found in our database and through our mobile app.
Today's #MarkerMonday highlights The Explosion at the Confederate Powder Works in Augusta. In August of 1864, a violent industrial accident led to the deaths of eight men and a boy at the Augusta Powder Works building. This gunpowder mill also employed women and children to fill the positions of men off at war. The dangerous working conditions and low pay prompted a strike the following October, demonstrating the hardships faced by civilians during wartime.
To learn more about the explosion at the confederate powder works read the full historical marker text.