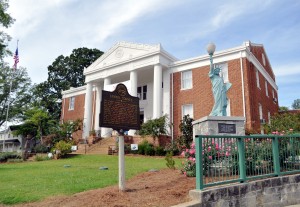 This week's #MarkerMonday recognizes Colonel James Walker Fannin, Jr. who, along with 350 Georgia volunteers, was captured and massacred at Goliad, Texas, on March 27, 1836. Fannin was born near Marion, Georgia on January 1, 1804. At the age of fourteen, he attended the University of Georgia, but left the university to attend West Point in 1819. After dueling with a fellow cadet in 1821, Fannin left West Point and returned to Georgia where he became a merchant and married Minerva Fort, with whom he had two daughters. Fannin moved to Columbus in 1828, where he served as a secretary of a temperance society and division inspector for the Georgia militia.
In the fall of 1834, Fannin and his family moved to Velasco, Texas where he became a planter and managing partner in a slave-trading syndicate. The following year, Fannin was appointed by the Committee of Public Safety and Correspondence, an assembly of Texans seeking independence from Mexico, to solicit funds and supplies from Georgian sympathizers, and later joined the Texas volunteer army where he fought in the Texas Revolution. On October 28, 1835, he led Texas forces at the Battle of Concepcion and was later commissioned a colonel in the Texas Regular Army on December 7. Fannin also succeeded in raising a group of volunteers primarily from Macon and Columbus, later known as the Georgia Battalion. In 1836, both Fannin and the battalion participated in the Goliad Campaign, a campaign during the Texas Revolution. During the Campaign Fannin and his men, both Georgian and Texan, delayed their retreat and became surrounded by Mexican forces. Fannin surrendered on the condition that he and his men would be paroled. However, Mexican General Santa Anna overturned the agreement. On March 27, 1836, Palm Sunday, more than 330 of Fannin's men, were executed in the woods outside of Goliad. Fannin was wounded and was kept locked in the mission until his execution in the building's courtyard and his remains burned. While the Goliad Campaign of 1836 was a victory for Mexican forces, the defeat helped inspire Texan forces to victory at the Battle of San Jacinto. Fannin County, Georgia, was created by an Act of Legislature on January 21, 1854 in his honor.
Top Image taken from larger image of Presidio La Bahia. Public Domain. Accessed via Wikimedia.
---
Explore the links below to learn more about Colonel James W. Fannin and the Goliad Massacre.
Today in Georgia History Video
New Georgia Encyclopedia (James Walker Fannin, Jr.)
New Georgia Encyclopedia (Fannin County)
Texas State Historical Association: Goliad Massacre
Texas State Historical Association: Goliad Campaign of 1836
Texas State Historical Association: James Walker Fannin, Jr.
Texas State Historical Association: Georgia Battalion
Further Reading
Brown, Gary. Hesitant Martyr in the Texas Revolution: James Walker Fannin. Plano, TX: Republic of Texas Press, 2000.
Smith, Ruby Cumby. "James W. Fannin, Jr., In The Texas Revolution." The Southwestern Historical Quarterly 23, no. 2 (1919): 79-90. http://www.jstor.org/stable/27794555.