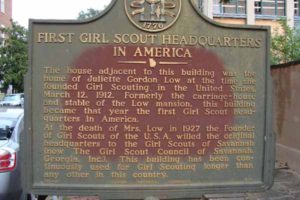 This week's #MarkerMonday highlights Juliette Gordon Low, the founder of the Girl Scouts. Low was born in Savannah, Georgia, on October 31, 1860. Low, nicknamed "Daisy" by family and friends, was raised in an influential and wealthy family. Not long after her birth, the Civil War broke out, and the Low's had family on both sides of the conflict. Her father fought for the Confederacy, and her mother's family, from Chicago, fought for the United States. Despite the financial difficulties her family faced, Low's mother saw to her early education and nurtured her artistic talents. As a teenager, Low attended boarding schools in Virginia and New Jersey. She also attended Mesdemoiselles Charbonniers, a French finishing school in New York City. After completing her schooling, she married William Low, a wealthy British merchant. The couple moved to England to start their lives together. However, their marriage was not a happy one, and her husband abandoned her for another woman. The couple was seeking a divorce when William Low suddenly passed away in 1905.
In 1911, a new chapter in Low's life began when she met Sir Robert Baden-Powell, a British war hero and founder of the Boy Scouts and Girl Guides. Low became involved with the Girl Guides and started a company of Girl Guides in Scotland. In 1912, she returned to Georgia bringing the Girl Guides movement to the United States with her. The first troop of 18 girls met on March 12, 1912, in the former carriage house of the Low family mansion in Savannah. The following year the name was changed to Girls Scouts. Low continually worked to grow the Girl Scouts organization and even used her own money to pay expenses when the organization was low on funds. In 1920, she resigned as president and assumed the title of founder. Low continued to represent the Girl Scouts around the world, but left the daily administration to Anne Hyde Choate and a dedicated national board. Low developed cancer in 1923 but largely hid her condition from friends and family. Less than a year before her death, Low realized one of her greatest dreams: hosting the 1926 World Camp (a joint meeting of Girl Scouts and Girl Guides from around the globe) in the United States at Camp Edith Macy in New York. Low died of breast cancer in January 1927 and is buried in Laurel Grove Cemetery in Savannah.
---
Explore the links below to learn more about Juliette Gordon Low and the Girl Scouts.
The Georgia Historical Society is proud to house several items and collections related to Juliette Gordon Low and the Girl Scouts, including the Gordon Family Papers, 1802-1946, which contains the personal papers of Juliette Gordon Low and her family. The original 1917 Girl Scout Handbook ,How Girls Can Help Their Country, can be found in GHS's Rare Pamphlet Collection.  Other GHS resources include the Anne Mintz Collection of Girl Scouts Troop 1 Records (MS 2351) and Walter John Hoxie Papers (MS 403). Check out the blog post, Juliette Gordon Low: The First Girl Scout, by GHS Research Assistant Rachael Zipperer to learn about other source materials related to Low.
Juliette Gordon Low was also the Georgia History Festival's Featured Historical Figure in 2012. Visit her page to learn more about her life and the founding of the Girl Scouts.
Birthplace of Juliette Low Historical Marker
Today in Georgia History Video
Girl Scouts First Headquarters
Juliette Gordon Low Birthplace
Further Reading
Shultz, Gladys Denny; Lawrence, Daisy Gordon (1988). Lady from Savannah: The Life of Juliette Low. New York: Girl Scouts of the United States of America.
Corey, Shana (2012). Here Come the Girl Scouts! The Amazing, All-True Story of Juliette "Daisy" Gordon Low and Her Great Adventure. New York: Scholastic.