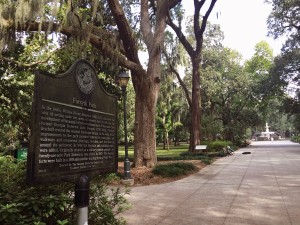 In recognition of one of Georgia's most successful statesmen, today's #MarkerMonday is dedicated John Forsyth and one of his most famous legacies, Forsyth Park in Savannah. The park was originally made possible by William Hodgson, who donated ten acres for its creation in the 1840s. Forsyth donated an additional twenty acres for the park in 1851 during his tenure as Governor of Georgia, at which point the park was named for him. In addition to being governor, John Forsyth also served as Georgia's Attorney General, was elected to both the US House of Representatives and US Senate, and was appointed Secretary of State by Andrew Jackson. Forsyth Park remains the largest public park in Savannah's historic district and hosts some of the city's most famous attractions, such as the fountain found at its north end. His other namesakes include Forsyth County and the City of Forsyth, Georgia. This legendary Georgian was both born (1740) and died (1841) on this week in October.
To learn more about Forsyth Park and John Forsyth, explore the links below.
GHS is proud to house the John Forsyth Papers, 1811-1814, in its collections.
Home of John Forsyth Historical Marker
U.S. State Department: John Forsyth