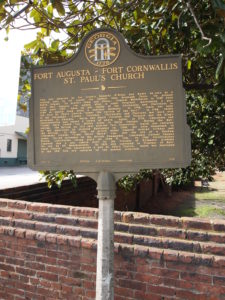 This week's #MarkerMonday highlights Fort Augusta/Fort Cornwallis and the American Revolution in Georgia. Built in 1735, at the falls of the Savannah River, Fort Augusta was a center for trade with the Native Americans in the region. The site also saw the construction of St. Paul's Church "under the curtain of the fort" in 1750. Abandoned after the French and Indian War, British forces once again took up residence at the site during the American Revolution after taking control of the city of Augusta. Due to the disrepair of the old Fort Augusta, a new fort –  Fort Cornwallis, was built on the site. Between 1779-1781, the Patriot Cause suffered major setbacks in Georgia. Georgian Patriots had been defeated at the Siege of Savannah in 1779 and again during an attack to take Augusta from the British in 1780. It seemed that Georgia was going to remain in British hands. But that would change decisively the following year when American forces, under the command of General Andrew Pickens and Colonel Henry "Light Horse Harry" Lee decided to make another attempt to retake the fort. The Siege of Augusta began in May 1781, and on June 5, in the face of overwhelming firepower, the British surrendered. The capture of Augusta gave American peace negotiators in Paris, France, reason to demand Georgia's independence even though Savannah remained in British hands. On October 19, 1781 the British surrendered to General George Washington at Yorktown in and would evacuate Savannah, their last holding in Georgia, in July 1782.
Explore the links below to learn more about Georgia's role in the American Revolution.
GHS is proud to house several collections related to Georgia's Revolutionary War history and information related to the unveiling of the Fort Augusta monument in 1901.
Related Marker Monday Posts
Marker Monday: The Mayham Tower (May 29, 2017)