To highlight this year's Georgia History Festival theme, "A Legacy of Leadership," November's #MarkerMondays explore Georgia's military history.
---
This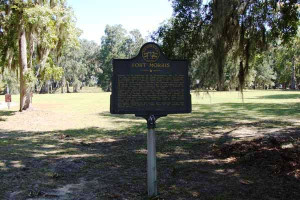 week's #MarkerMonday highlights Fort Morris, located in Sunbury, Georgia. In 1776, at a meeting of the Continental Congress, delegates recognized the need to protect the seaport of Sunbury from the growing British threat. To fulfill this need, construction began to erect a fort on a low bluff on the Medway River at Sunbury and was named in honor of Captain Thomas Morris, the commanding officer of the first artillery unit to occupy the garrison during the American Revolution.
Within a year of the fort's completion, on November 25, 1778, the British demanded that the American forces at the site surrender immediately. The commander at the time, Colonel John McIntosh, responded, "Come and take it!" Due to an insufficient number of troops, the British retreated back to Florida, only to return a few months later. On January 9, 1779, the British captured Fort Morris after a short but heavy bombardment. Renaming the site Fort George, the British controlled the fort until the fort's abandonment in 1782. At the outbreak of the War of 1812, Georgia's coast was again threatened by the British. Under the name of Fort Defiance, a new battery was built at the site to protect the Port of Sunbury from attack. American forces prepared for the British to move north along the Georgia Coast from Cumberland Island and St. Marys. However military operations were halted when the war ended with the signing of the Treaty of Ghent.
---
Explore the links below to learn more about the history of Fort Morris.
Fort Morris is a participating site in the 2018 Super Museum Sunday. For more information, visit the http://georgiahistoryfestival.org/.
GHS is proud to house the Sunbury Prisoner Oaths, ca. 1779. Following the British capture of the fort during the Revolutionary War, continental and militia officers and other prisoners of war at Sunbury sign the oath stating they would not leave Sunbury or will they take up arms against King George until legally exchanged.
New Georgia Encyclopedia (Revolutionary War in Georgia)
New Georgia Encyclopedia (War of 1812 and Georgia)
Fort Morris: State Historic Site
Explore Southern History: Fort Morris
Go South Savannah: Fort Morris Historic Site
Liberty County, Georgia: Fort Morris State Historic Site
Further Reading
Daniel T. Elliot, "Archaeological Investigations at Fort Morris State Historic Site, Liberty County, Georgia. Report to Georgia Department of Natural Resources Parks and Historic Sites Division, Atlanta, Georgia, from Southern Research Historic Preservation Consultants, Inc., Ellerslie, Georgia.," The MUA Collection, 2003.