November 11, 2018, marks 100th anniversary of the armistice that ended the First World War. In honor of this anniversary, November's #MarkerMonday posts will look at Georgia's role in the First World War.
---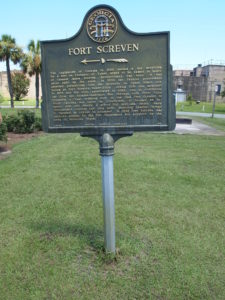 This week's #MarkerMonday highlights Tybee Island's Fort Screven. The United States established the fort in the late 1890s as part of Georgia's improved coastal defenses as the outbreak of the Spanish-American War approached. Informally, the fort was called Fort Tybee and later Camp Graham. In 1899, a presidential proclamation changed the name to Fort Screven in honor of General Joseph Screven, a Revolutionary War hero. Similarly, the fort's gun batteries were named in honor of American war heroes. 1904, Fort Screven had seven batteries, each consisting of a cannon, ammunition, and surrounding fortifications. In 1917, the disarming of the batteries began with the removal four 8″ guns from Battery Brumby for overseas service in France and Germany during World War I. Following the war, additional batteries were disarmed as part of the post war disarmament push.
During the First World War, Fort Screven served as a coast artillery fort, part of the United States coastal defense system. Sea patrols were also conducted from Fort Screven to defend against German U-boats. After the war, Fort Screven was deactivated in 1921 as the United States Army began to downsize. The fort was reactivated the following year and became the Headquarters of the 8th Infantry Regiment. Fort Screven remained an active military base through the end of the Second World War. The fort closed in 1947, and the property was sold to the City of Tybee. In the 1960s, one of the fort's batteries, Battery Garland became the Tybee Island Museum. Other portions of the fort, specifically Officer's Row and some of the fort walls, were developed as private residences.
---
Explore the links below to learn more about Fort Screven and Georgia during World War I.
GHS is proud to house Marion H. Barnett's papers. He was born in 1891 in Washington, Georgia. Barnett served as a captain in the Army during World War I and was stationed at Fort Screven, Georgia.
New Georgia Encyclopedia (World War I in Georgia)
Visit Tybee Island: Fort Screven
Visit Tybee Island: Experience Fort Screven History
Explore Tybee Island: Tybee Island History
Further Reading:
Ciucevich, Robert A. Tybee Island: The Long Branch of the South. Charleston, SC: Arcadia Pub., 2005.
Ferreira, Katherine D. "Fort Screven." Savannah Images Project. Accessed October 31, 2018.
Related Marker Monday Posts:
Tybee Island (Posted June 25, 2018)
The Poppy Lady (Posted May 30, 2015)
Camp Gordon (Posted November 13, 2017)
Sinking of the H.M.S. Otranto (Posted November 5, 2018)