In honor of the 2016-2017 Georgia History Festival, "A State of Innovation," the January #MarkerMonday posts will focus on Georgia businesses and the GHS Business History Initiative. Over the course of the month, these posts will highlight the impact of Georgia businesses on the state and national economies, and also explore how Georgians have influenced the larger economic landscape.
---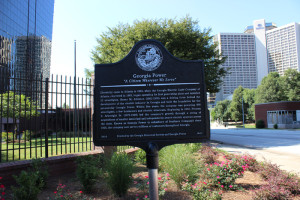 This week's #MarkerMonday highlights the early history of an iconic Georgia business, Georgia Power. The Georgia Electric Light Company of Atlanta (GELC), a precursor to the Georgia Power Company, first brought electricity to the city in 1884 in the form of streetlights.  Henry M. Atkinson (1862-1939) as the majority stock holder in GELC was a driving force behind the development of the electric industry in Georgia and built the foundation for the present-day Georgia Power. In 1902, Atkinson bought out rival streetcar entrepreneur Joel Hunt and formed the Georgia Railway and Electric Company (GR&EC) by consolidating his many holdings in the power industry. That same year Preston S. Arkwright, Sr. (1871-1946), president of GR&EC, led the company's growth through a string of acquisitions of smaller municipal and independently owned electric systems across the state.
In the early 20th century, Arkwright turned to hydroelectric power with the purchase of the Morgan Falls hydroelectric plant and Tallulah Falls. The acquisition of hydroelectricity allowed the company to send power from its hydroelectric plants to homes and businesses in Atlanta and surrounding areas. The company also had the first radio station in Atlanta which was used as a way to communicate between substations and eventually began to broadcast music program and local news to the public. In additional efforts to promote electricity, the company also supported entertainment for the public in the form of an amusement park and baseball team—. Known as Georgia Power since 1926, the company now serves millions of customers throughout Georgia. Not just a producer of electricity, Georgia Power, a subsidiary of Southern Company, is responsible for creating jobs, bringing new industry to the state, and running one of the largest corporate foundations in Georgia.
---
Explore the links below to learn more about Georgia Power.
GHS is dedicated to telling the stories of iconic Georgia businesses, like Georgia Power, through the Georgia Business History Initiative. GHS as also developed educational materials for Georgia Power in the form of a Case Study.
New Georgia Encyclopedia- Georgia Power Company/Southern Company
Williford, William Bailey. Peachtree Street, Atlanta. Athens: University of Georgia Press, 2010.