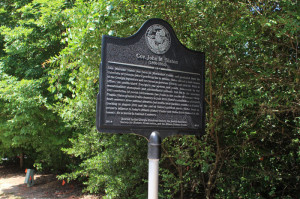 Today's #MarkerMonday recognizes Governor John M. Slaton, who passed away on this day in 1955. Born in Meriwether County on Christmas Day in 1866, Slaton attended the University of Georgia and became and lawyer in Atlanta. He later served in both houses of the Georgia legislature, and was Speaker of the House for four years from 1905-1909. He later served two terms as governor, from 1911-1912 and then 1913-1915. Slaton's achievements while in office include the modernization Georgia's tax code and road systems. He is best known for granting clemency to Leo Frank, who was originally convicted of the murder of Mary Phagan, in 1915. This move drew national attention and led to Frank's August 1915 lynching. It effectively ended Slaton's political career. After this event, he served as president of the Georgia Bar Association from 1928-1929 and chaired the Board of Law Examiners for twenty-nine years. He is buried in Oakland Cemetery.
To learn more about Governor Slaton and the Leo Frank Lynching, explore the links below.
GHS is proud to host resources related to Gov. John M. Slaton, including the Slaton family photographs.
New Georgia Encyclopedia (Gov. Slaton)
New Georgia Encyclopedia (Leo Frank Case)
Further Reading
Mark K. Bauman, "Factionalism and Ethnic Politics in Atlanta: The German Jews from the Civil War through the Progressive Era," Georgia Historical Quarterly 82 (fall 1998): 533-58.