To further explore this year's Georgia History Festival theme, "The United States Constitution: Ensuring Liberty and Justice for All," December's #MarkerMondays examine Georgians' contributions to the development of a government elected by, accountable to, and representative of the citizenry.
---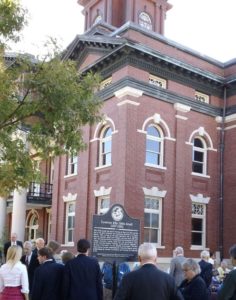 This week's #MarkerMonday highlights Governor Ellis Arnall's role and motivations in eliminating Georgia's poll tax, a Post-Reconstruction barrier designed to disenfranchise black Americans.  Arnall was a southern liberal who reportedly threatened to use an executive order to end poll taxes if the Georgia General Assembly did not. Although the abolishment of the poll tax in Georgia on February 5, 1944, had the effect of toppling a pillar of the Jim Crow South, Arnall's motivations are complicated.
Governor Arnall believed in a more representative government and the extension of democratic institutions.  He viewed education and democracy as integral to addressing the state's poverty. However, when Arnall fought to terminate Georgia's poll tax, he did so more to enfranchise poor, white Georgians, – the then existing white primary already barring black voters – than the citizenry at large.  He was a segregationist and white supremacist, quoted as saying, "if a Negro ever tried to get in a white school in the section where I live, the sun would not set on his head".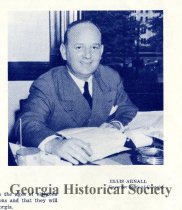 However, unlike Eugene Talmadge, his 1942 gubernatorial rival in the Georgia Democratic primary, Arnall was more concerned with addressing Georgia's underdevelopment than maintaining its racist social structure. He viewed economic problems as oppressive to both blacks and poor whites, supporting equal opportunities.  He believed in economic and societal change for Georgia and perceived the abolition of the poll tax as a means to enfranchise the impoverished, white Georgians who his policies benefited.  Whatever Governor Arnall's intentions, the end of the poll tax, coupled with the later destruction of the white primary, resulted in a theretofore unprecedented amount of black political empowerment in Post-Reconstruction Georgia.
---
Explore the links below to learn more about Governor Arnall and the end of Georgia's poll tax.
GHS is proud to house these collections related to Governor Ellis Arnall.
Messages and addresses: 1943-1946 / Governor Ellis Arnall.
John Helm Maclean papers on Eugene Talmadge, 1938-1942.
The GHS archives also house these related books.
The shore dimly seen / by Ellis Gibbs Arnall.
The politics of change in Georgia: a political biography of Ellis Arnall / Harold Paulk Henderson.
Further reading.
Today in Georgia History Ellis Arnall
Today in Georgia History Poll Tax Abolished
Today in Georgia History Three Governors Controversy
New Georgia Encyclopedia Ellis Arnall (1907-1992)
New Georgia Encyclopedia Three Governors Controversy
Breedlove v. Suttles, 302 U.S. 277 (1937)
Chronicling America "State Of Georgia Moves To Poll Tax-Free Column," The Detroit Tribune, Feb. 10, 1945.
The Georgia Historical Quarterly published articles related to Governor Arnall and Georgia's poll tax which can be accessed on JSTOR. If your library does not have access to JSTOR, you can go to www.jstor.org and create a free MyJSTOR Account.
Other related JSTOR article.