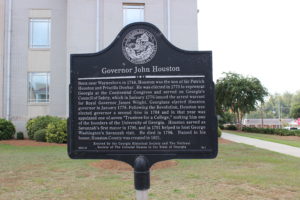 In honor of the 240th Anniversary of the conclusion of the First Continental Congress, today's #MarkerMonday is dedicated to one the representatives from Georgia, John Houstoun. He was born near Waynesboro, GA in 1744 and later became an attorney in Savannah before entering the political arena. In 1774, he was elected as one of Georgia's delegates to the Continental Congress. He served as Governor of Georgia during the Revolution from 1778-1779, and again after the war's end from 1784-1785. During his second tenure as Governor, he was appointed as one of the founding Trustees of the institution that became the University of Georgia. Houstoun eventually returned to Savannah, where he was elected the city's first mayor in 1790. He passed away in 1796 at his home in White Bluff. Houston County was named in his honor upon its establishment in 1821.
Explore the links below to learn more about Governor John Houstoun.
GHS is proud to house the John Houstoun Letters and the Papers of the Continental Congress, Georgia State Papers in its collection.
Biographical Directory of the United States Congress