This year, the Georgia History Festival theme is "A Legacy of Leadership." For the month of October, #MarkerMondays will focus on Georgia governors and their leadership of our state through the years. October is also Archives Month. GHS is proud to house several archival materials both about and from these leaders.
---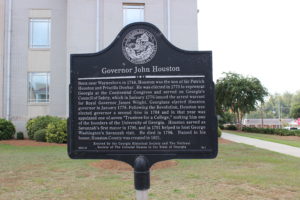 This week's #MarkerMonday highlights John Houstoun, Georgia's governor 1778-79 and 1784-85. Houstoun was born in St. George's Parish, near present day Waynesboro, Georgia, in 1744 to Sir Patrick and Priscilla Houstoun. After studying law in Charleston, he established his law practice in Savannah in 1771. Houstoun later entered politics, joining Archibald Bulloch, George Walton, and Noble W. Jones at Tondee's Tavern in Savannah to discuss the "the arbitrary and alarming" acts by the British government on the American colonies. In 1775, he attended the Georgia Provincial Congress as a representative from Savannah. Houstoun was elected by the group to represent Georgia at the First Continental Congress, however none of Georgia's delegates attended. He was also elected to, and attended, the Second Continental Congress. When fellow Georgia representative, John J. Zubly, left the congress due to his opposition to American independence, Houstoun returned to Georgia to oppose Zubly's efforts to convince Georgians to remain loyal to Great Britain. While back in Georgia, Houstoun served on Georgia's Council of Safety, which issued the arrest warrant for Royal Governor James Wright in January 1776. Two years later, he was elected to is first term as governor, becoming the first Georgia-born governor of the state. As governor, Houstoun worked to improve the positioning of Georgia's military.
In the spring and summer of 1778, Loyalists from Georgia and South Carolina were flocking to the British fort in St. Augustine, Florida.  With the support of the Continental army, Houstoun led forces from Georgia and South Carolina in a successful attempt to drive the British across the St. Mary's River out of Georgia. Fearing that the British might return, Houstoun planned to attack the British fort in St. Augustine. The attack, which was not supported by troops from the Continental Army, ultimately failed. In December of 1778, the British reentered Georgia and captured the seat of Georgia's government, the City of Savannah, and Houstoun moved the seat of the patriot government from Savannah to Augusta. He later fled to Charleston when the British also captured Augusta, only returning after the British abandoned the city. Following the Revolution, Houstoun was elected governor for a second time in 1784. His second administration focused on land grants, conflicts between settlers and the Native Americans along the Georgia frontier, and a border dispute with South Carolina.  After his second term as governor, Houstoun served as Savannah's first mayor in 1790, and hosted George Washington's Savannah visit in 1791. Houstoun died at his home, White Bluff, near Savannah in 1796. Although still pronounced House-ton, the spelling of his namesake county (created in 1821) evolved to Houston.
---
Explore the links below to learn more about John Houstoun and his role as governor during and after the American Revolutionary War.
GHS is proud to house several collection items related to Governor Houstoun including: his pocket watch, a portrait of his mother, Priscilla, his portrait, and a collection of his letters from 1775-1784.
Houston County Historical Marker
New Georgia Encyclopedia (John Houstoun: ca. 1747-1796)
New Georgia Encyclopedia (Revolutionary War in Georgia)
New Georgia Encyclopedia (Houstoun County)
National Governors Association: John Houstoun
Biographical Directory of the United States Congress: John Houstoun
Our Georgia History: John Houstoun, Patriot
Perry Historical Society: A Brief History of Houston County
Further Reading
Johnston, Edith Duncan. The Houstouns of Georgia. Athens, GA: University of Georgia Press, 1950.
Jones, Charles C. Jr., Biographical Sketches of the Delegates from Georgia to the Continental Congress. Spartanburg, S.C.: Reprint Co., 1972.
Lynch, Wayne. "John Houstoun and the 1778 Expedition to East Florida." Journal of the American Revolution. December 9, 2013. Accessed October 16, 2017.
Related Marker Monday Posts
Archibald Bulloch (Posted July 31, 2017)
Meadow Garden: Home of George Walton (Posted July 24, 2017)
Button Gwinnet (Posted May 16, 2016)
Hall's Knoll: Home of Dr. Lyman Hall (Posted July 3, 2017)
Independent Presbyterian Church (John J. Zubly) (Posted August 28, 2017)