This year, the Georgia History Festival theme is "A Legacy of Leadership." For the month of October, #MarkerMondays will focus on Georgia governors and their leadership of our state through the years. October is also Archives Month. GHS is proud to house several archival materials both about and from these leaders.
---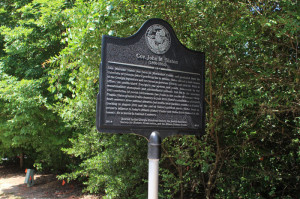 This week's #MarkerMonday highlights John Marshall Slaton, who served as Georgia's governor from 1911-1912 and 1913-1915. On December 25, 1866, John Marshal Slaton was born near Greenville in Meriwether County, Georgia, to Nancy and William Slaton. Slaton attended the Sam Bailey Male Institute in Griffin, Georgia before eventually graduating Boys High School in Atlanta. He continued his education at the University of Georgia receiving a master of arts degree in 1886. The following year he was admitted to the bar and began practicing law in Atlanta. Slaton's political career began in 1896 when he was elected to the Georgia House of Representatives. He served in the House until 1909, serving as Speaker of the House his last few years. That same year he was elected to the Georgia State Senate, a position he held until 1913.
When Governor Hoke Smith won election to the U.S. Senate in 1911, Slaton, as the president of the state senate, was appointed acting Georgia governor. He was acting governor from 1911-1912, completing Smith's term. Slaton was later elected to the governorship in his own right and served from 1913-1915.  While in office, he modernized Georgia's tax system, preserved the state-owned Western and Atlantic Railroad by arranging a new lease for the company, and paid teachers' salaries in full after several months of teachers not receiving pay checks. Slaton received multiple death threats for his decision and a mob threatened to attack him at his home. Hostile local backlash resulted in Frank's lynching in Marietta in August 1915 and the end of Slaton's political career. Following his term as governor, Slaton did not hold another publicly elected office. He served as the Georgia Bar Association president from 1928-1929 and chaired the Board of Law Examiners. Slaton died on January 11, 1955. He is buried in Oakland Cemetery in Atlanta.
---
Explore the links below to learn more about John M. Slaton's governorship, policies, and the Leo Frank case.
GHS is proud to house the Eliza Leiper Woolford Jones collection of Slaton family photographs, ca. 1904-1959. The collection consists of eleven photographs of members of the Slaton family including John Marshall Slaton.
Leo Frank Lynching Historical Marker Text
New Georgia Encyclopedia (Gov. John M. Slaton)
Today in Georgia History (Leo Frank Lynching)
The Newnan Times-Herald: Marker Honors John M. Slaton
The Atlanta Jewish Times: Governor in the Leo Frank Case to be Honored
National Governor's Association: Governor John Marshall Slaton
Find a Grave: John Marshall Slaton
Jewish American Society for Historic Preservation: Leo Frank Lynching
Profiles in Courage: John Slaton (49-minute video that aired on NBC in 1964. Accessed via Internet Archives)
Further Reading
Slaton, John M., Office of the Governor, State of Georgia, "Leo Frank Clemency Decision by Governor John M. Slaton." June 21, 1915. Accessed October 5, 2017 via Internet Archives. https://archive.org/details/LeoFrankClemencyDecisionByGovernorJohnM.Slaton1915
Klinger, Jerry. "The Lynching of Leo Frank: The Commutation of Gov. John Slaton." Jewish American Society for Historic Preservation.
Cook, James F., and James F. Cook. The Governors of Georgia, 1754-1995. Macon, GA: Mercer University Press, 1996.
Goldfarb, Stephen J. "Former Governor of Georgia John Slaton 1955 Memorandum on Leo Frank Case." American Jewish History 88, no. 3 (2000): 325-39. Accessed October 5, 2017. https://archive.org/details/JohnSlatonMemorandumStephenJGoldfarbAmericanJewishHistoryV88N32000.
Harlan, Louis R. Separate and Unequal: Public School Campaigns and Racism in the Southern Seaboard States, 1901-1915. Chapel Hill: University of North Carolina Press, 2015.
Johnston, James Houstoun. Western and Atlantic Railroad of the State of Georgia … Atlanta: Stein Print. Co., State printers, 1931. Pg. 76-77, 360. Accessed through Hathi Trust Digital Library.