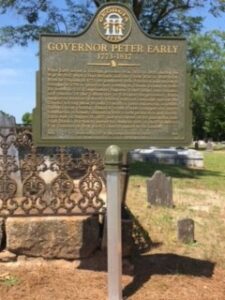 To further examine this year's Georgia History Festival theme, "From Marshes to Mountains, Georgia's Changing Landscape: Geography, History, and Community," this week's #MarkerMonday features the Governor Peter Early historical marker in Greene County. Peter Early served as a member of the US House of Representatives (1801-1807), Justice of the Superior Court of the Ocmulgee Judicial Circuit (1807-1813), Governor of Georgia (1813-1815), and in the Georgia State Senate (1816-1817).
Peter Early was born on June 20, 1773, in Madison County, Virgina. He moved to Georgia in 1792 to practice law in Wilkes County, where he lived for about nine years before moving westward into Greene County. Early was not settled for long before his political career began, filling John Milledge's vacated congressional seat when Milledge was elected Georgia's eighth governor.
Elected as governor in 1813, Peter Early was thrust into decisions regarding the War of 1812 and the rising tensions between the Creek Indians and White settlers as the settlers continued to press westward. Although the theaters of the War of 1812 are typically limited to the northern United States and Canada, as England tried to restrict US trade with France, its ramifications reached Georgia too. Many Native tribes, including the Creeks in Georgia, aligned with the British during the War of 1812 because they wanted England to help them recover land already lost and to stop the Americans from moving further into their territories. The War of 1812 spurred a targeted effort of the Creeks against Georgians, now called the Creek War. To protect Georgia's frontier from enemies, Governor Early ordered the Georgia militia to secure the western border by building stockades and manning new forts. These defenses allowed General Andrew Jackson to lead federal troops against the Creeks, resulting in a loss of around 22 million acres of their lands in southern areas of modern Georgia and Alabama.
---
Explore the links below to learn more:
New Georgia Encyclopedia – Peter Early (1773-1817)
New Georgia Encyclopedia – War of 1812 and Georgia
New Georgia Encyclopedia – Creek Indian Leaders
Downtown Greensboro Historic Cemetery Tour
Encyclopedia Britannica – Creek War
History.com – War of 1812
National Governors Association – Governor Peter Early
Biographical Directory of the United States Congress
The Georgia Historical Quarterly has published an article relating to Governor Peter Early and the Creek War which can be accessed on JSTOR. If your library does not have access to JSTOR, you can go to www.jstor.org and create a free MyJSTOR Account.
Governor Peter Early and The Creek Indian Frontier, 1813-1815