This year, the Georgia History Festival theme is "A Legacy of Leadership." For the month of October, #MarkerMondays will focus on Georgia governors and their leadership of our state through the years. October is also Archives Month. GHS is proud to house several archival materials both about and from these leaders.
---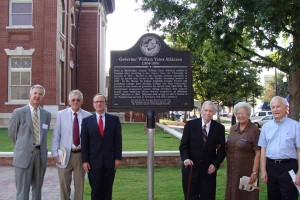 This week's #MarkerMonday highlights William Yates Atkinson, Georgia's governor from 1894-1898. Atkinson was born in Meriwether County on November 11, 1854, to John Pepper Atkinson and his second wife, Theodora. After graduating from the University of Georgia in 1877, Atkinson moved to Newnan, Georgia, to practice law. Two years later, Governor Alfred H. Colquitt appointed him solicitor to the Coweta Judicial Circuit in west Georgia. In 1886, Atkinson was elected to and served four terms in the Georgia House, where he worked to establish Georgia Normal and Industrial College (now Georgia College and State University).
Atkinson left the House and served two terms as governor. Advocating for many progressive issues, Atkinson hired Georgia's first salaried female state employee, increased funding for the public-school system, and increased pensions of Confederate soldiers and widows. Atkinson, known for his condemnation of violence towards African Americans and mob rule, created laws strengthening both the power of sheriffs and the legal penalties for inciting or participating in mob violence. He also called for revision of the convict lease system and established a prison commission to curb abuses in the system and oversee inmates' treatment. After leaving office in 1898, Atkinson returned to Newnan to practice law. One year later, Atkinson attempted to prevent the lynching of Sam Hose, a local black man accused of rape and murder. His pleas for Hose to receive a fair trial failed, and he was killed by a mob on April 23, 1899. Later that same year, Atkinson became sick while on a business trip in Florida, and passed away August 8, 1899. Atkinson is buried in Newnan's Oak Hill Cemetery, and, in 1917, Atkinson County was named in his honor.
---
Explore the links below to learn more about William Yates Atkinson, his two terms as governor, and his progressive policies.
GHS is proud to house a collection of Thomas B. Irwin's correspondence. Papers in this collection discuss Atkinson's first campaign for Georgia's governor in 1894.
Atkinson Court House Historical Marker
New Georgia Encyclopedia (William Yates Atkinson)
New Georgia Encyclopedia (Convict Lease System)
New Georgia Encyclopedia (Georgia College and State University)
Today in Georgia History (William Yates Atkinson)
Today in Georgia History (Von Gammon)
National Governors Association: William Yates Atkinson
Our Georgia History: Williams Yates Atkinson
GeorgiaInfo: William Yates Atkinson
Further Reading
Cook, James F.The Governors of Georgia, 1754-2004, 3d ed. Macon, GA: Mercer University Press, 2005.
Grem, Darren E. "Sam Jones, Sam Hose, and the Theology of Racial Violence." The Georgia Historical Quarterly 90, no. 1 (2006): 35-61.
Shipp, Mauriel. The Public Life of William Yates Atkinson. Master's thesis, University of Georgia, 1955.
Sobel, Robert, and John Raimo, eds. Biographical Directory of the Governors of the United States, 1789-1978, Vol. 1, Westport, Conn.; Meckler Books, 1978. 4 vols.