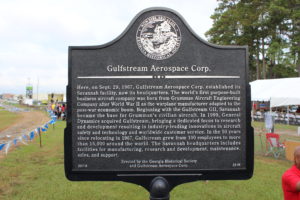 This week's #MarkerMonday highlights Savannah's Gulfstream Aerospace Corp. In 1930, Leroy "Roy" Grumman and Leon Swirbul began an aeronautical engineering company in an old auto showroom garage in Long Island, New York. Named for Grumman, chief investor and the company's first president, Grumman Aircraft Engineering Company's sole market was the military. During World War II, the company became a preeminent manufacturer of naval aircraft, most notably the F4F Wildcat and F6F Hellcat. After the war and the need for military aircraft diminishing, Grumman shifted their efforts to building airplanes for business travel. The Gulfstream brand first appeared in 1957, when Grumman Aircraft Engineering Company completed the design for the Gulfstream I (GI), a jet-powered corporate aircraft. Following the success of the GI, Grumman developed the Gulfstream II (GII). To improve the company's efficiency, Grumman officials separated the company's civilian and military aircraft production.
On September 29, 1967, the company established its Savannah base for the civilian aircraft production. Savannah offered the skilled labor, established airfield, and room to expand the company. Another important factor that led to the selection of Savannah for the facilities was the weather, conducive to year-round flight tests and flight-training. In the 1970s, Grumman Aircraft Engineering merged with American Aviation Corp, and later sold the Gulfstream aircraft line and the Savannah plant to American Jet Industries, becoming Gulfstream American. In 1982, the company changed its name to Gulfstream Aerospace Corp.  General Dynamics acquired Gulfstream in 1999, and since that time the Savannah facilities have expanded to include the opening of two research and development centers and a new business-jet manufacturing building.
---
Explore the links below to learn more about Gulfstream Aerospace Corp.
GHS is proud to house the Gulfstream Aerospace Corporation Collection of Photographs, which is open for research at the GHS Research Center and Library.
GHS is dedicated to telling the stories of iconic Georgia businesses, like Gulfstream Aerospace Corp, through the Georgia Business History Initiative.
Gulfstream News: The History of Gulfstream: 1958-Present
Stratos Jet Charters, Inc: History of Gulfstream Aerospace Corporation
Savannah Morning News: Gulfstream Expanding Again
Northrop Grumman: Leroy Grumman
Further Reading
Rodengen, Jeffrey L. The Legend of Gulfstream (Fort Lauderdale, Fla.: Write Stuff Enterprises, 2000).