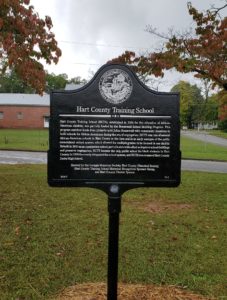 This week's #MarkerMonday highlights the newest Georgia Historical Marker in Hartwell, Georgia. In consideration of social distancing precautions, the Georgia Historical Society is highlighting Hart County Training School historical marker with a series of blog and social media posts, rather than a traditional public marker unveiling. Today, we look at the early years of Hart County's education system and the formation of Hart County Training School as a Rosenwald School.
In the early years of Hart County, established in 1853, White students attended schools funded by property taxes, tuition, room and board, and donations from the community. For those who could not afford to attend school, the Poor School Fund was created in 1858. However, after emancipation, Black children were educated in homes and churches. While their education was largely supported by their communities, they did not have the funds to provide the same opportunities and resources that the White students received.
The founding of the Hart County Board of Education in 1871, was the first step to providing standardized education to both Black and White students in Hart County and allowed schools to be publicly funded in 1874. In 1921, a consolidation effort took place. Many White and Black schools only had a few teachers for select grades, so students would have to change schools to continue their education. Over 40 schools consolidated into 12, including Hart County Training School for African-American students, allowing multiple grades to be housed in one facility. These schools were funded primarily by Julius Rosenwald's Rosenwald School Building Program and community contributions.
---
Explore the links below to learn more:
Hart County Historic Resources
A Student's Historical Reflection of Hart County Training School