November 11, 2018, marks 100th anniversary of the armistice that ended the First World War. In honor of this anniversary, November's #MarkerMonday posts will look at Georgia's role in the First World War.
---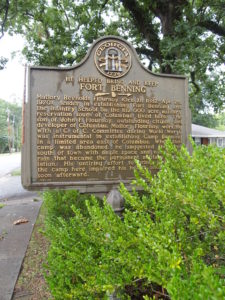 This week's #MarkerMonday highlights Fort Benning, home of the United States Army Infantry, near Columbus, Georgia. With the United States entry into the First World War, the federal government realized that Fort Sill in Oklahoma was not large enough to accommodate the training of the Army's infantry and artillery units. In May 1918, a new site was selected for a larger infantry school, Columbus Georgia, and Congress authorized the establishment of the new training camp later that same year. The Columbus Rotary Club requested the site be named for Henry L. Benning, a former brigadier general of the Confederate Army and Columbus native. The first soldiers arrived for training in October 1918, one month before the war ended. Originally named Camp Benning, the site was first composed of temporary mess halls, tent frames, bath houses and water supply installations needed for the infrastructure of the camp.
After the end of World War I, the United States War Department ordered the abandonment of all new construction and lease options and the cancellation of all condemnation proceedings. Camp Benning would be forced to close. The Columbus Chamber of Commerce, citizens, and military leaders successfully lobbied the Senate Committee for Military Affairs to establish the camp as a permanent military post in the 1920s. In 1922, the camp was renamed Fort Benning. Fort Benning continued to grow following the First World War as the Army learned from wartime experiences and made advancements in tactics and training techniques. Fort Benning remains an active military post to this day.
---
Explore the links below to learn more about Fort Benning and is role in the First World War and in the years following the war.
New Georgia Encyclopedia (World War I in Georgia)
New Georgia Encyclopedia (Fort Benning)
Enccyclopedia.com: Fort Benning
Benning News: FORT BENNING CENTENNIAL MINUTE: US JOINS WWI
Ledger-Enquirer: 10 things you should know about Fort Benning
Further Reading:
Kane, Sharyn, and Richard Keeton. Fort Benning: The Land & the People. Tallahassee, FL: Southeast Archeological Center, 2003.
Related Marker Monday Posts:
The Poppy Lady (Posted May 30, 2015)
Camp Gordon (Posted November 13, 2017)
Sinking of the H.M.S. Otranto (Posted November 5, 2018)
Fort Screven (Posted November 12, 2018)
Camp Wheeler (Posted November 19, 2018)