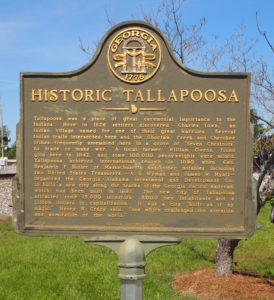 This week's #MarkerMonday examines the Historic Tallapoosa historical marker in Haralson County. Tallapoosa is about 60 miles west of Atlanta and located on the Georgia-Alabama border. When settlers first arrived in present-day Tallapoosa in 1826, they found a popular meeting ground for Choctaw, Creek, and Cherokee tribes. More settlers started to arrive during the Georgia gold rush (1829-1840s) when a local farmer, William Owens, found gold in 1842.
Tallapoosa was incorporated on December 20, 1860, and named after the nearby Tallapoosa River. In an article published in the Columbus Enquirer-Sun on October 16, 1887, Tallapoosa was labeled as "A Georgia town with a great future," because of the area's mineral resources and the creation of the Tallapoosa Land, Mineral, and Mining Company, an enterprise  founded by Ralph L. Spencer, a developer from Connecticut, earlier in 1887. The land surrounding Tallapoosa was also noted to be "fertile and very productive."
The land drew another industry to Tallapoosa in 1888 when Spencer invited 200 Hungarian wine-making families, working in Pennsylvania mines, to the area just east of Tallapoosa. The new community was named Budapest, in honor of the capital of Hungary. After seeing their success, Slovaks migrated to the area and established the community of Nyitra (Nitra), named after the ancient fort in western Slovakia. Another community, the village of Tokaj, was named after the famous wine-making region of Hungary. Despite the success of the wineries, the prohibition act of 1908 halted production. The families could not continue to produce wine, so they moved out of their communities—most of them back to the mines in Pennsylvania. Today, one of the remnants of the communities are their cemeteries, where the former inhabitants are said to be buried facing east toward their home countries.
---
Explore the links below to learn more:
Related Marker Text – Hungarian Colony
Haralson County Historical Society – Prelude to the Haralson County Wine Boom
Tallapoosa, GA – Our History
New Georgia Encyclopedia – Haralson County
Columbus enquirer-sun. (Columbus, Ga.) 1886-1893, October 16, 1887, Image 2