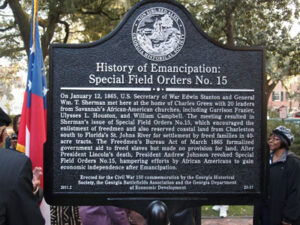 Each day this week, GHS will highlight resources and collection items illustrating the movement toward emancipation in connection with Juneteenth, the day commemorating the end of slavery in the United States. This week's #MarkerMonday highlights the History of Emancipation: Special Field Orders No. 15 historical marker in Chatham County. After completing his march to Savannah in December, U.S. General William T. Sherman announced his Special Field Orders No. 15 on January 16, 1865.
Special Field Orders No. 15 redistributed land either confiscated by the U.S. during the Civil War or abandoned from Charleston, South Carolina, to the St. Johns River near Jacksonville, Florida, and as far inland as thirty miles west from the coastline. Although not all of the land was abandoned, Congress previously decided that land owned by Confederate soldiers or supporters would be considered abandoned and able to be confiscated by the federal government. This totaled about 400,000 acres of land including the barrier islands that were historically home to cotton, rice, and sugar cane plantations. The land was to be divided so that newly freed families could settle on their own land.
The 400,000 acres would be divided into 40 acre plots and distributed per family. In addition to receiving land, men were encouraged to join the U.S. Army to help support their newfound freedom. Sherman later announced that families could also lease a mule from the United States Army, giving them "40 acres and a mule."
After Lincoln's assassination, President Johnson overturned the special field order. He stated that the confiscated land could only be held during wartime. After the war ended, the land would need to be returned to the landowners. After the land was restored, the Black families had few options, resulting in most becoming sharecroppers. This limited their financial opportunities and independence despite being free.
---
Explore the links below to learn more:
Today in Georgia History – December 22, Sherman in Savannah
New Georgia Encyclopedia – Sherman's Field Order No. 15
Encyclopedia Britannica – Field Order No. 15
TeachingHistory.org – Forty Acres and a Mule