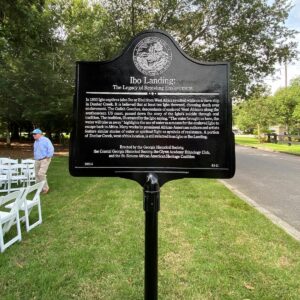 This week's #MarkerMonday highlights the Ibo Landing: The Legacy of Resisting Enslavement historical marker in Glynn County, the newest Georgia Historical Marker. Located on St. Simons Island's Dunbar Creek, Ibo Landing (also known as Ebo or Igbo) marks the site of resistance to enslavement by Igbo captives from West Africa in 1803. It is believed that the Igbo, following a revolt against their captors, chose death over a life of enslavement. The Igbo captives marched into the waters at Dunbar Creek and committed mass suicide, where it is said at least ten Igbo drowned. The Igbo suicide, preserved by oral traditions, became an important symbol in African-American folklore. Read the full blog post to learn more about the legacy of the Igbo and African-American folklore.
The Gullah Geechee are descendants of West Africans that were forcefully brought to the Southeastern coast of the US and enslaved during the eighteenth and early nineteenth centuries. Oral storytelling is a prominent feature in Gullah-Geechee culture, and the story of the Igbo suicide in 1803 has been passed down through the oral traditions of the Gullah Geechee. Through this tradition, the story of the Igbo influenced narratives known as "Myth of the Flying Africans."
The "Myth of the Flying Africans" narrative has evolved into variations of local legends. However, the legends all focus on the idea of flight as a means of escape, the homeland return, and freedom for the enslaved. Variations of the narrative often address the return to Africa, by flight through the air or by water, which is highlighted by the Igbo saying, "The water brought us here, the water will take us away." The Igbo suicide is symbolic in African-American folklore because it alludes to both the supernatural aspect of escape by flight, as well as to the use of suicide by enslaved Africans as a means of liberation from slavery. The Igbo's story and the "Myth of the Flying Africans" narrative are representative of courage and freedom and have influenced many works of film and literature such as Daughters of the Dust and Song of Solomon.
---
Explore the links below to learn more:
New Georgia Encyclopedia – Ebos Landing
New Georgia Encyclopedia – Slave Narratives
New Georgia Encyclopedia – Geechee and Gullah Culture
https://gullahgeecheecorridor.org/thegullahgeechee/
https://www.blackpast.org/african-american-history/events-african-american-history/igbo-landing-mass-suicide-1803/
https://www.goldenisles.com/discover/golden-isles/african-american-heritage/ebo-landing/
https://www.savannahtribune.com/articles/celebrating-black-history-month-remembering-the-igbo-landing/
http://www.glynncounty.com/History_and_Lore/Ebo_Landing/
McDaniel, Lorna. "The Flying Africans: Extent and Strength of the Myth in the Americas." Nieuwe West-Indische Gids / New West Indian Guide 64, no. 1/2 (1990): 28–40. http://www.jstor.org/stable/24027305.
---
Collection Items:
GHS houses several collections related to Ibo Landing and the Gullah Geechee:
Albert H. Stoddard audiocassettes and transcripts
---