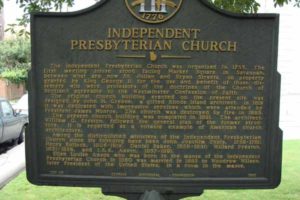 This week's #MarkerMonday discusses John Joachim Zubly, first minister of Independent Presbyterian Church in Savannah, Georgia. Born Hans Joachim Zublin in Switzerland on August 17, 1724, John Joachim Zubly was educated in Switzerland then later became ordained in the German Reform Church in London in 1744. After his ordination, Zubly immigrated to South Carolina to join his father who had lived in the colony since 1736. In 1748, Zubly became the pastor at Wappetaw Independent Congregational Church in Wappetaw, South Carolina. Following the establishment of the Presbyterian Church of Savannah, later known as Independent Presbyterian Church, he accepted a position as the congregation's first pastor in 1760, a position he held until his death. In addition to sermons, Zubly also wrote several other theological works, including one of his best-known works, The Nature of Faith (1772).
An outspoken opponent to the British Parliament and the Stamp Act, Zubly wrote a series of pamphlets and published sermons which discussed the colonists' grievances toward Great Britain. Zubly also became known for his sermons that related revolutionary ideals to Scripture. In 1775, he was elected as one of Georgia's representatives to the Continental Congress in Philadelphia. Shortly after beginning his term in the Continental Congress, Zubly made his stance known that while he supported many of the patriot ideals, he did not support independence from Britain. Rather, Zubly wanted to "secure the rights of American colonists," while seeking reconciliation with Great Britain.  By mid-November of the same year, Zubly had resigned from Congress and returned to Savannah, branded a traitor due to his opposition to independence. In 1776, the Council of Safety banished Zubly from Georgia, confiscated half his property, and destroyed his personal library. Zubly took refuge with loyalists in South Carolina, and did not return to Georgia until 1778 after the British captured Savannah, at which point he resumed his pastoral duties at Independent Presbyterian Church. Zubly died in July 1781, months before the British surrender at Yorktown. He is buried in Savannah's Colonial Park Cemetery.
Top image is Rev. John Zubly's signature taken from a lager image of a document written by Zubly. Image Credit: Manuscripts and Archives Division, The New York Public Library. "Zubly, John Joachim" New York Public Library Digital Collections. Accessed August 7, 2017. http://digitalcollections.nypl.org/items/593e6800-3afa-0133-a98a-00505686d14e.
---
Explore the links below to learn more about Rev. John J. Zubly, the American Revolution, and the history of Independent Presbyterian Church
GHS is proud to house the journal of Rev. John J. Zubly from 1770-1781  and a collection of his manuscripts and letters from 1770-81 which can be referenced in GHS' online catalog. GHS is also proud to house a copy of Revolutionary Tracts, a reprinting of three of John J. Zubly's sermons relating to revolutionary movement and Stamp Act. These sermons were originally published in 1769 and 1775. This book is a part of the main collection at GHS and available for research.
New Georgia Encyclopedia (John J. Zulby)
Independent Presbyterian Church: A History
Biographical Directory of the United States Congress: John Joachim Zulby
Our Georgia History: Rev. John Joachim Zubly
Further Reading
Beeman, Richard R. Our Lives, Our Fortunes and Our Sacred Honor: The Forging of American Independence, 1774-1776. New York: Basic Books, a member of the Perseus Books Group, 2015.
Killion, Ronald G., and Charles T. Waller. Georgia and the Revolution. Atlanta: Cherokee Pub. Co., 1975.
Martin, Roger A. "John Joachim Zubly: Preacher, Planter, and Politician." Ph.D. diss., University of Georgia, 1976.
Miller, Randall M. ed., "A Warm & Zealous Spirit": John J. Zubly and the American Revolution, Selection of His Writings. Macon, Ga.: Mercer University Press, 1982.
The Georgia Historical Quarterly and other scholarly journals have published articles about Rev. John J. Zubly which can be accessed on JSTOR. If your library does not have access to JSTOR, you can go to www.jstor.org and create a free MyJSTOR Account.
Schmidt, Jim. "The Reverend John Joachim Zubly's "The Law of Liberty" Sermon: Calvinist Opposition to the American Revolution." The Georgia Historical Quarterly 82, no. 2 (1998): 350-68. http://www.jstor.org/stable/40584058.