In honor of the 2016-2017 Georgia History Festival, "A State of Innovation," the October #MarkerMonday posts will focus on the research used to make markers possible as part of Archives Month. Over the course of the month, these posts will talk about examples of how newer research informs and even changes our understanding of places, events, and people.
---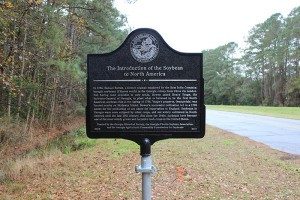 This week's #MarkerMonday discusses how archival collections can be used to learn more about the stories behind historical markers. Theodore Hymowitz, Professor Emeritus of Crop Sciences at University of Illinois at Urbana-Champaign, used two of Georgia Historical Society's collections to uncover the history of soy
bean agriculture as well as two published volumes of GHS collection material. The Walter Charlton Hartridge, Jr. collection and the Phillip R. Yonge papers, 1763-1884 provide insight into how soybeans arrived in North America, their cultivation, and the effect the crop had on the United States' food economy.
Samuel Bowen, a former seaman of the British East India Company, brought the soybean from China to Georgia in 1765. Bowen, with assistance from the Surveyor General of Georgia, Henry Yonge, cultivated the first soybean crop near Skidaway Island. Bowen's successful soybean harvest led to the production of soy sauce and vermicelli (soybean noodles), both of which were exported to England. Through his research at GHS, Hymowitz discovered the location, name, and size of the land Bowen purchased in Savannah to grow soybeans. Greenwich plantation, which consisted of 450 acres at Thunderbolt, was the center of Bowen's farming and manufacturing enterprises. Hymowitz was also able to learn about Bowen's family by examining genealogical records in the Walter Charlton Hartridge Jr. collection. For example, he discovered that Samuel Bowen was married to Jane Bowen, and they had four children together-2 sons named James Flint and Samuel Flint and 2 daughters, Elizabeth Ann and Mary Dinah. Hymowitz also looked at the Letters of Sir James Wright 1873 and Letters of the Hon. James Habersham, 1904. In these documents, he found how much sago powder, soy sauce, and vermicelli were exported from Savannah between 1772 and 1773, and that Samuel Bowen was contacted by Habersham to grow  rhubarb.
Through Hymowitz's research at GHS, he learned that not only was Savannah the first site in North America to cultivate soybeans, but that it harvested rhubarb as well. The research that was conducted by Dr. Hymowitz assited in the creation of the Introduction of the Soybean to North America historical marker. The marker itself is beneficial for people interested in learning more about this important cash crop.
---
Explore the links below to learn more about soybean agriculture and researching historical markers.
GHS is proud to house several collections and papers related to the history of soybeans in North America including: The Walter Charlton Hartridge, Jr. Collection, The Phillip R. Yonge Papers, 1763-1884, Letters of Sir James Wright 1873, Letters of the Hon. James Habersham, 1904, Collections of the Georgia Historical Society Volume 3, and Collections of the Georgia Historical Society Volume 6
New Georgia Encyclopedia: https://goo.gl/Gfr0vB
World Soybean Research Conference 10: https://goo.gl/oUnwBQ
UGA Extension: https://goo.gl/luHXkr
Georgia History Festival: http://georgiahistoryfestival.org/
Further Reading:
Roger Boerma, "Another First for Georgia Agriculture,"Georgia Soybean News 1, no. 1 (Fall
2014): 5.
George Arents Collection, The New York Public Library. "East India Company." New York
Public Library Digital Collections.
Brad Haire, "First Soybean Crop in North America was Planted spring 1765 in Georgia,"Southeast Farm Press, 2016.
Hymowitz and J. R. Harlan, "Introduction of Soybean to North America by Samuel Bowen
in 1765,"Economic Botany 37, no. 4 (October 1983): 371-79.
Terry Shaw, "The Siege of Bonaventure,"Bonaventure Historical Society 8 (September/October
2002).
Amie Marie Wilson and Mandi Dale Johnson, Historic Bonaventure Cemetery: Photographs from the Collection of the Georgia Historical Society (Charleston, SC: Arcadia Pub., 1998).