To further explore this year's Georgia History Festival theme, "The United States Constitution: Ensuring Liberty and Justice for All," December's #MarkerMondays highlight Georgians' contributions to the development of a government elected by, accountable to, and representative of the citizenry.
---
This week's #MarkerMonday highlights the first U.S. Congresswoman, Jeannette Rankin, and discusses the struggle for women's suffrage in Georgia. In 1916, Montana elected Jeannette Rankin as the first woman to serve in the United States Congress. As a Congresswoman, Rankin led the debate on women's suffrage in the House of Representatives before the passage of the 19th amendment that granted women the right to vote. After her first term in Congress, Rankin bought a home in Georgia and turned her efforts toward founding the Georgia Peace Society.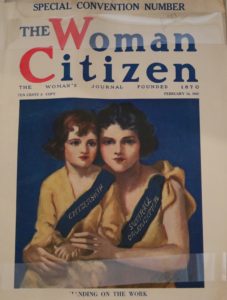 Meanwhile, women's suffrage in Georgia developed in a uniquely southern way, and suffragettes faced fierce opposition from anti-suffragist women.  While suffragists and anti-suffragists clearly differed on the fundamental question of whether women should be allowed to vote, both groups still maintained an overall support for certain aspects of the traditional Southern power structure. For example, the Georgia Association Opposed to Women's Suffrage (GAOWS) formed in 1914, and supported traditional southern social conventions including patriarchy and white supremacy.
Similarly, while Georgia's suffragettes advocated for giving women political voice through the right to vote, most were focused very specifically on ensuring this right for white women only. In fact, in order to alleviate concerns that allowing black women to vote would upset the power structure of the South, suffragists were generally quick to point out that the same Jim Crow restrictions that prohibited black men from voting would similarly keep black women away from the polls.
Concerns over the destruction of southern society, from components of the social hierarchy to federal control, contributed to Georgia being the first state to reject ratification of the 19th amendment after it was passed in Congress and sent to the states. Although women's suffrage became a constitutionally protected right on August 18, 1920, Georgia women were still unable to vote until the 1922 elections.
---
Explore the links below to learn more about Jeannette Rankin and women's suffrage in Georgia.
New Georgia Encyclopedia "Jeannette Rankin (1880-1973)"
New Georgia Encyclopedia "Woman Suffrage"
Today in Georgia History "Georgia Women Gain Vote"
Georgia Women of Achievement "JEANNETTE PICKERING RANKIN"
GHS is proud to house these and several other collections related to women's suffrage. For more, search our online catalog.
American Association of University Women records, 1925-1996.
League of Women Voters of Savannah-​Chatham : records, 1948-1988 / League of Women Voters of Savannah-​Chatham.
National Association Opposed to Woman Suffrage broadsides, 1917-1919.
National Organization for Women, Savannah Chapter records, 1970-1984.
Savannah Women's Federation (Ga.) records, 1913-1994.
Further reading
The Georgia Historical Quarterly published articles related to Jeannette Rankin and women's suffrage which can be accessed on JSTOR. If your library does not have access to JSTOR, you can go to www.jstor.org and create a free MyJSTOR Account.
THE ORIGIN OF THE WOMAN SUFFRAGE MOVEMENT IN GEORGIA
Revival and Development of the Woman Suffrage Movement in Georgia
The Last Phase of the Woman Suffrage Movement in Georgia
Caretakers of Southern Civilization: Georgia Women and the Anti-Suffrage Campaign, 1914-1920